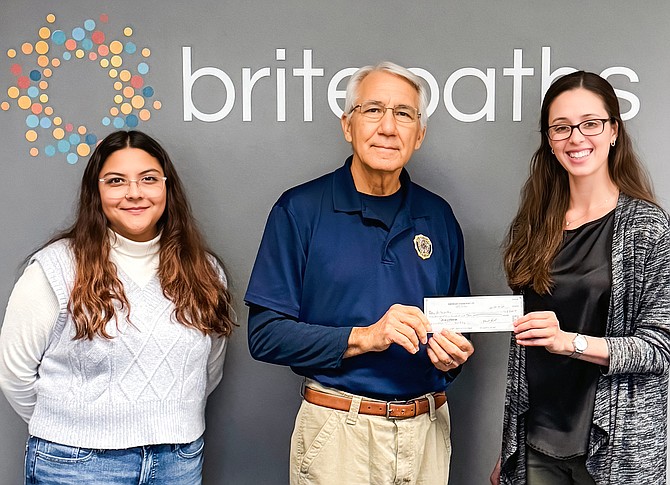 The holidays are supposed to be joyful times spent with family and friends. And when people gather to share a special meal together, no one pictures an empty table and hungry children. 
But sadly, that's the reality for many local families who – despite having jobs and working hard – struggle to make ends meet in Fairfax County's high-end economy. So that's where nonprofits such as Fairfax-based Britepaths, along with the generosity of area residents, come in.
With both Thanksgiving and Christmas on the horizon, Britepaths is currently seeking financial donations from the community to help provide grocery-store gift cards to 265 Fairfax County-area families who are experiencing food insecurity. Having these gift cards will enable them to keep food on their tables during the upcoming holidays and long school breaks when their children won't be receiving free and reduced-price meals at school. 
Referring to the Capital Area Food Bank's 2022 Hunger Report, Britepaths' Executive Director Lisa Whetzel said, "In our prosperous area, it is startling to think that 41 percent of Fairfax County households with children experience food insecurity."
"For many of us, November and December are a time for celebrations and holiday traditions," she continued. "For the families Britepaths serves – whose budgets are already stretched far too thin – it means making heartbreaking choices."
Britepaths is partnering with seven Fairfax County Public Schools to receive referrals for families with demonstrated needs for assistance. In the Fairfax High School Pyramid, these schools are Daniels Run, Eagle View and Providence elementaries; Katherine Johnson Middle School and Fairfax High. So the families who need help live in both the City of Fairfax and central Fairfax County and could be anyone's neighbors.
With help from the community, Britepaths will be able to purchase grocery-store gift cards that staff at the partner schools will provide to the parents of students in need. Donations are welcome through Dec. 31.
For more information and to donate online, go to http://britepaths.org/holiday. Checks may also be mailed to Britepaths at 3959 Pender Drive, Suite 200, Fairfax, VA 22030. Please write "Holiday 23" on the check's memo line. Program sponsorships are also available. Those interested should contact Britepaths at 703-273-8829 or events@britepaths.org.  
Britepaths is grateful to its Holiday Program sponsors: SAIC, American Legion Post 177 in Fairfax City, Walmart Fairfax Supercenter No. 2015, and the Richard W. Averill Foundation. However, with the local need for help so great, an assist from area residents is critical.
And besides providing food, the gift cards will also help families buy Christmas gifts for their children. But Britepaths can't brighten the holidays for them alone, so Whetzel and her staff are hoping as many community members as possible will open their hearts and wallets to help those less fortunate than themselves. 
After all, said Whetzel, "Parents will be challenged to feed their families at a time of year when so many of us are enjoying great bounty. So supporting Britepaths' Holiday Program is a wonderful way to make a real difference for neighbors who live very near us, at this special time of year."
***
In 2024, Britepaths will celebrate 40 years of providing help, hope and a path forward for Fairfax County and Northern Virginia residents experiencing a financial crisis. In FY 2023, the organization served 7,999 households, impacting the lives of 11,555 people. Throughout the year, the organization relies on funding and volunteer support from businesses, individuals, community groups and faith communities to help Britepaths provide a multitude of services to those in need.
Its programs stabilize families via supplemental food and financial assistance. And Britepaths also offers personal empowerment through financial education and workforce-development coaching, workshops and training. Furthermore, it supports children with its Back-to-School partnerships, Food4Thought weekend food kits, plus holiday meal assistance for families – helping thousands of children year 'round. More information is at: britepaths.org.