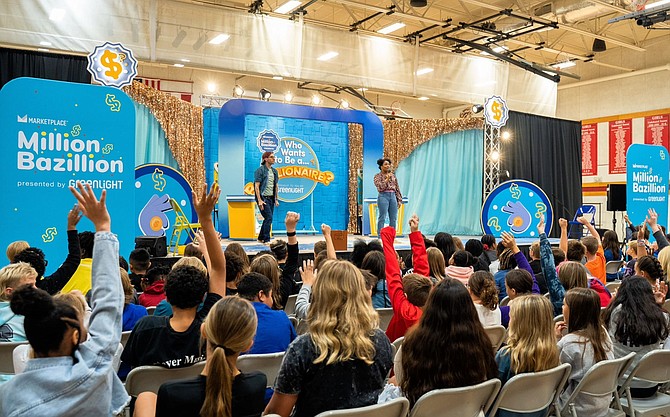 Late last month, middle schoolers at Dorothy Hamm Middle School learned about financial literacy with Million Bazillion Live! "Who Wants to be a Bazillionaire?" Based on the Webby-winning kids' podcast Million Bazillion from Marketplace and presented by Greenlight, Million Bazillion Live! brings financial knowledge and empowerment to middle school students.
"We have an exciting event coming to Dorothy Hamm on Monday – a game show assembly called Million Bazillion: Who Wants to be a Bazillionare," said Dorothy Hamm's morning announcements the week before. "It's all about financial literacy with student and teacher participation. All classes will attend the show during the day, and we have another show in the evening for your families."
American Public Media's Marketplace, the most widely consumed business and economic news programming in the country, partnered with Greenlight Financial Technology on a mission to help parents raise financially smart kids.
Personal finance education still is not a requirement for students to graduate in all 50 states. 27 states don't require a personal finance course, even though teens score an average of 64% on the National Financial Literacy Test. At the same time, 93% of teens know they need financial knowledge and skills to achieve their life goals — and 97% of parents agree.
Presented in a fun, entertaining game show format, Million Bazillion Live! is an immersive experience with personal finance trivia, challenges, and prizes. During the tour, students cheer on their classmates while learning about real money matters such as budgeting, saving, and investing.
To learn more, visit millionbazillionlive.com.