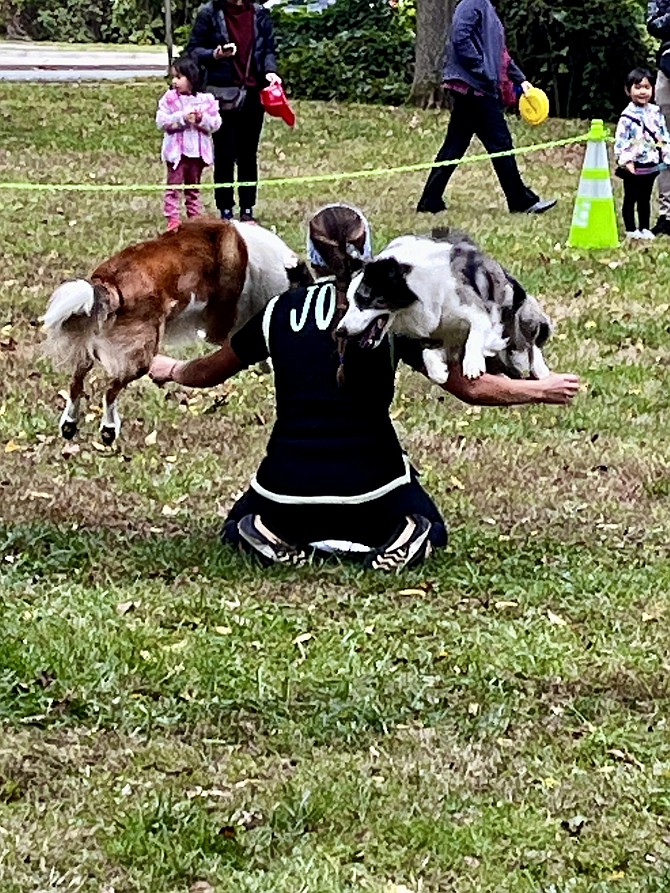 On Sunday, Oct. 15, leashed furry friends took their humans to the McLean Pet Fest, hosted by the McLean Community Center. The free, five-hour event included music, a photo booth, pet tricks, giveaways, demonstration shows, and Fido's Bone Bar. Pet rescue, adoption, sitters, groomers, and trainers were among the related service resources. Food trucks for people pulled up to the rear parking lot area of the Dolley Madison Library parking lot to make the event a half-day celebration.
A striking mini Golden Doodle of Vienna brought its owners, Tom and Maria. They appeared interested in purchasing a scarf for their four-legged, curly-furred best friend.
Nearby, Natalie Pate, 7, of McLean, pushed her silky Siamese kittie, Cleo, in a pink stroller, safely tethered within. Cleo appeared at ease, sitting up high and stately, not paying attention to the noisy dogs around her. 
A short walk away, McLean Community Center teen volunteers Aubrey Leverette and Allie Cage took a break to visit the animals in the petting zoo, including the little pot-bellied pig.
Catherine Nesbitt, special events manager at the McLean Community Center, looked over the area, teeming with happy people and ostensibly delighted pets. "The McLean Pet Fest is a community event for all ages," she said, "providing a fun, safe, educational, and relaxing time outside in the fresh air of McLean Central Park." The community center concluded the festivities with a costumed pet parade, much to the delight of everyone, pets included.