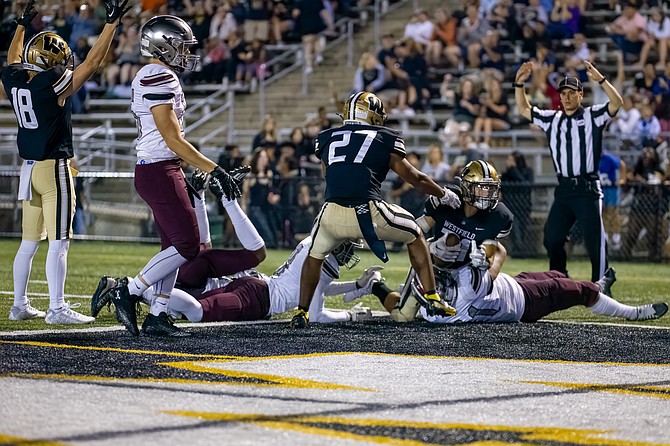 The Westfield Bulldogs faced the Mount Vernon Majors on Thursday Aug. 31, 2023 in Chantilly for a non conference matchup. 
On Westfield's first possession Landon Murphy would put the Bulldogs on the board with 7:31 in the first quarter with a 34 yard touchdown reception on 4th down. Murphy would score with 4:33 still to play in the opening quarter for his second touchdown of the game on an 8 yard touchdown, after Everett Sawyer's blocked punt. 
Kennedy Duda scored on an 8 yard touchdown with 8:04 to play in the second quarter giving Westfield a 20-0 lead after a missed extra point. Later in the quarter Everett Sawyer scored on a 9 yard touchdown reception with 4:30 remaining before halftime. 
Kennedy Duda scored his second touchdown rushing from 13 yards out. Landon Murphy then caught a pass in the end zone for a successful 2 point conversion with 4:52 to play in the third quarter. Westfield now fully in control 35-0. BJ Johnson then scored on a short run for Westfield that put Westfield up 42-0. 
Westfield (2-0) will play at Lake Braddock on Friday. Mt Vernon (0-2) will host Friendship Collegiate Academy.