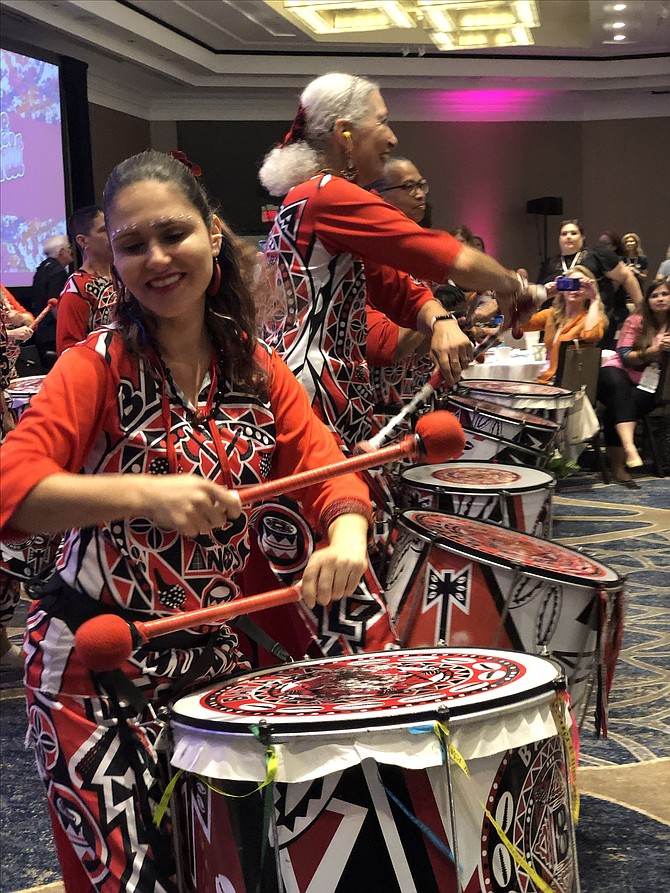 There is nothing quite like entering a ballroom overflowing with 1,000 (mostly) women to understand the effect the last few years have had on Virginians. They are fired up. One could hear the buzz all the way down the hall. On the stage was Heather Booth, who fought for civil rights in Montgomery, Alabama in the 1960s, and then for the right to abortion, and who at 77 remains a powerful force for change. It was a look back at some of the feminists who have been actively breaking barriers, including Ellie Smeal, Eileen Davis and Sen. Mamie Locke. And it was a look forward to the new feminists, including a panel of Gen Z women, and Galilea Sejas-Machado, who runs Catalyst for Empowerment. Emily Ocasio, 18, of Girls Computing, said she had been coming to the Summit since she was 14, and this year is finally old enough to vote. It was like a massive family reunion of activists. And when Ms. Magazine was handed out — its fiftieth anniversary edition — many in the room smiled in recognition of an old friend. 
The Women's Summit started in 2017. After an "Adopt a Candidate" event at a local library hosted by Network NOVA (a grassroots group formed after the Women's March) a group of women went to a nearby bar to continue chatting. Katherine White, co-founder of Network NOVA said "We should do a summit, like Seneca Falls." (Seneca Falls was the first organized event by women's rights activists in 1848.) Robbin Warner had done events before for NATO, so she thought it could be done. White and co-founder of Network NOVA Stair Calhoun had known each other since their children were young, had organized a bus to go to the Women's March downtown and thought the event could happen. 
Dedicated to keeping local people involved, their summit was organized by a group of eight women in 90 days, held in Loudoun County, and got 300 attendees. Its focus was 34 Virginia House of Delegate candidates and their staff. Calhoun attributes their success to their willingness to innovate, and the inability to take no for an answer. In 2018 the Summit had 750 attendees, with Congressional candidates from nine districts. In 2019 it was sold out at 1000 attendees with 140 candidates for local, state, and federal office. Senators Tim Kaine and Mark Warner, Representatives Beyer, Connolly, Spanberger, and Wexton spoke. 
In 2020 and 2021 the Pandemic meant the Summit was online. In 2021 it was online and had three satellite locations in Northern Virginia, Harrisonburg and Virginia Beach. Warner, Calhoun, and White made each summit fun, with swag and music – even the virtual ones, one of which featured a very lively virtual cocktail party.
THIS JULY, the Summit, once again sold out, didn't have to make it clear that obtaining and maintaining majorities in the Virginia House and Senate respectively, is crucial if voting rights, healthcare choices, civil rights and environmental gains were to be protected. So in a series of workshops, they worked on navigating the urban-rural divide, how to run for office, advocating for change, protecting Virginia's climate laws and passing new ones, understanding the history of culture wars against public schools, and protection of reproductive health access, among many other topics. The attendees in 2023 were 84 percent female, aged from 16 to 70-plus, and came from 103 Virginia cities as well as some from the states of California, Florida, Georgia, North Carolina, New York and Oregon. The summit was more diverse, younger, and had more workshops and vendors than previous summits. To name just a few topics, there was a special session for school board candidates, a session on social media, a discussion of guns and the legal landscape, and storytelling to create change. 
Attendees see this year as an important one for safeguarding equal rights in Virginia, particularly since Gov. Glenn Youngkin (R) has expressed a willingness to ban abortion in Virginia and has already moved to restrict the rights of LGBTQ residents. Attendees at the summit sent a clear signal: we aren't taking it anymore. They clapped and shouted support for each speaker who said the ERA must be passed, who said the curtailment of women's right to healthcare must be stopped, who decried the infringement of the full rights of LGBTQ people, the banning of books in school libraries, and the continued mass shootings by people who shouldn't have weapons.
Arlington resident Rose Fabia spoke about enriching voter engagement, Sharon Shutler of Arlington spoke on protecting Virignia's climate laws, and Nancy Morgan of Alexandria spoke on money in politics. Commonwealth's Attorney Parisa Deghani-Tafti spoke about reproductive rights and prosecution. Sen. Jennifer Boysko and Del. Briana Sewell, along with Kristina Hagen, State Director, Family Friendly Virginia, spoke on the family friendly economic policy they advocate. Congressman Don Beyer spoke. Del. Dan Helmer (D-10) spoke, a strongly pro-women's rights talk. U.S. Sen. Tim Kaine gave a moving talk about how important his roles in government have been for him, and his wife, former Virginia Education Secretary, Anne Holton speaking passionately about keeping schools open minded. U.S. Rep. Abigail Spanberger got a big round of applause, as did Del. Danica Roem, always a rousing speaker, Del. Kathy Tran. 
In one of the last sessions, called "Badasses Get Things Done," which was a rapid fire motivation-stirring string of speakers, Kate Slayton, Executive Director, Virginia21; Angela Ferrell-Zabala, Executive Director, Moms Demand Action; Eileen Filler-Corn, 56th Speaker of the Virginia House; Chris Diaz, Executive Director, Drag Out the Vote; Yasmin Radjy, Executive Director, Swing Left; and Tarina Keene, Executive Director, Repro Rising; left the crowd buzzing. Chris Diaz, usually entertaining, got serious about the specter of lost rights on the horizon. 
What was the most important take-away of the summit? "Barbie, Taylor Swift, and Beyoncé are not the only amazing 'Girl Power'' events of the summer," said Robbin Warner. "The Summit brings together grassroots groups. It brings together candidates running for office, many of whom have never met each other before. It's very special to see them meet each other and become friends, and encourage each other to keep running. Money doesn't win elections, people, coalesced people, win elections." 
The same eight women who organized the first summit, Calhoun, White, Warner, Renise Leresche, Barb Jones, Leslie Emery, Holly Hazard, Vicki Moffitt, have been there every year since, donating their time and making it one of the most sought after events on the calendar, even in summer. Finale Norton, who ran and lost an election, joined the team. The summit was sponsored by Clean Virginia, NOVA Labor, Feminist Majority, Repro Rising, UpVote, SwingLeft, Virginia Grassroots Coalition, 4PublicEduction, VADems, Del. Dan Helmer, Red, Wine, and Blue, Planned Parenthood, Sister District Project, Freedom Virginia, NWPC-VA, Rideshare 2 Vote, Virginia's List, Moms Demand Action, PostcardsforVirginia, Bards Alley, Justice Forward Virginia, Center for Common Ground, the Impact Center, and many other individuals (see www.NetworkNova.org for the full list.) Hundreds of volunteers gave their time to assist in the event. 
To attend the Friday Power Lunch, an event held every Friday at noon, focusing on the upcoming election, see www.NetworkNova.org/live.