Fairfax City is proud of its historic Old Town parks and schools, while warmly welcoming new residents, businesses and commercial development throughout the City. Here are details about some of the projects on the horizon: 
Photo Courtesy of Julie Parrotta
Artist's rendition of the City Centre West condo building.
City Centre West
One of the gateways to Fairfax City is getting a major upgrade courtesy of City Centre West. Arising at 10501 Main St., between Judicial Drive and West Street, it will be an eight-story building with 210,029 square feet of residential, office and commercial uses.
A project of Ox Hill Realty, it'll replace a former bank, an old office building and an unsightly, burned-out restaurant. Fairfax City Council approved it in July, and Ox Hill representative Bob Brant said this mixed-use structure will be something "Fairfax can be proud of and a landmark for the City." 
Situated on 1.78 acres, City Centre West will feature 79, for-sale, luxury condominiums and penthouses with amenities and a rooftop pool, 8,500 square feet of medical offices and 28,200 square feet of commercial-office space. There'll also be a drive-through bank, ground-floor retail, a restaurant and a .31-acre pocket park/plaza.
The top six floors of the building will house the one-, two- and three-bedroom residential units, with the 18,000-square-foot bank and offices on the lower floors, and four levels of below-grade, structured parking (309 spaces) for all the uses. The plaza will be for outdoor dining and a space where people may gather for events. It'll be accessible to the public and connect to downtown Fairfax.
The project will provide new road connections to Main Street and to the Fairfax County Judicial Complex. Ox Hill will also build a 10-foot-wide, landscaped sidewalk on Main Street. Groundbreaking is anticipated in March 2024, with project completion expected by spring 2026. 
Artist's rendition of Beacon Landing, an affordable apartment building to serve the homeless.
Beacon Landing Affordable Apartments
A project of The Lamb Center and Wesley Housing, Beacon Landing will provide permanent, supportive housing for 54 people experiencing homelessness. It'll replace the ancient, dilapidated Hy-Way Motel on Fairfax Boulevard with a modern, environmentally friendly, five-story apartment building that's 100-percent affordable.
"Giving someone a roof over their head is life changing," said Tom Barnett with Fairfax County's Office to Prevent and End Homelessness. "It means they won't return to homelessness, and it'll help them build long-time stability."
The building will be a block from The Lamb Center's daytime, drop-in shelter on Campbell Drive. Wesley Housing is the project developer and – with The Lamb Center's guidance – will manage the property. There'll be 42, 350-square-foot efficiency units; 10, one-bedroom; and two, two-bedroom for residents needing caregivers. And 15-percent will be ADA-compliant. 
Lamb Center guests chose the name, with one explaining, "'Beacon' makes me think of light, home and hope. 'Landing' reminds me of landing a job or landing housing – taking those steps toward a better life."
Since they're permanent homes, residents will have their own rental leases with no time limits. Supportive means a variety of services will help residents stay in and maintain their apartments, find employment/income and address their physical- and behavioral-health needs. And this housing will be affordable – no more than 30 percent of a resident's income, or a minimum of $50/month.
The second floor will feature a community room for the residents, plus space for Lamb Center case managers to assist residents with living independently and make sure they take their medication and obtain the services they need. Property-management staff will be there, too.
The 1,400-square-foot first floor will be an employment center to help building residents find entry-level jobs. The front door will be controlled access, and there'll be security cameras, plus a 24/7 staffed front desk. A bus stop will be outside the building, and racks for 26 bikes will be provided.
The Lamb Center Executive Director Tara Ruszkowski said this project will serve "the people most vulnerable, marginalized and at-risk, including the elderly and those with disabilities." Apartments will be fully furnished, including washers and dryers. She estimated construction to begin in spring 2024 and take some 14-16 months, with an anticipated building opening in 2025.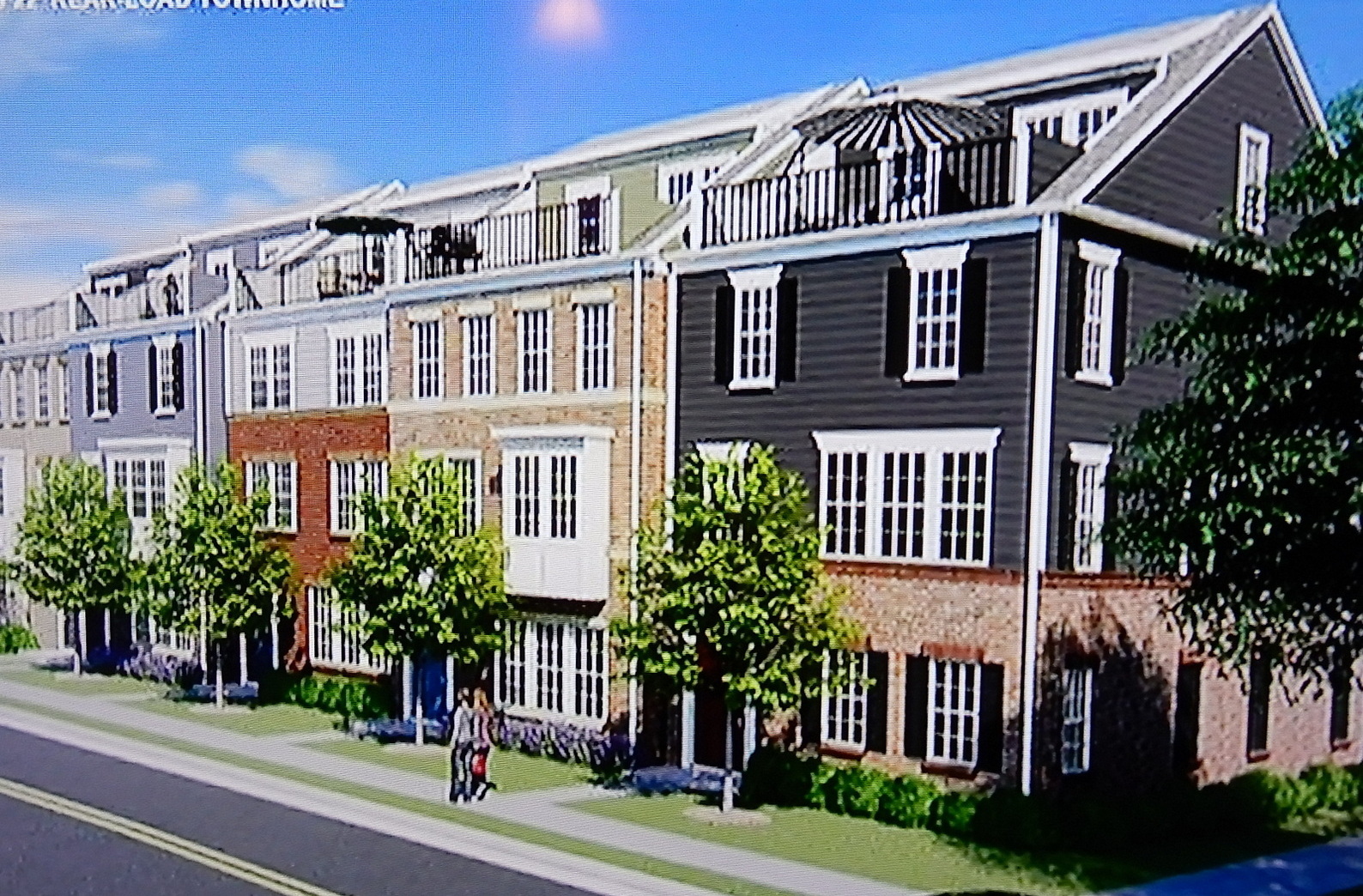 The Breezeway Motel's replacement project includes townhouses along Walnut Street.
New Homes and Commercial Building
Built in the early 1950s, the Breezeway Motel on Fairfax Boulevard will be demolished – as will the Fairfax Gardens Apartments on Cedar Avenue – so Pulte Home Co. may construct townhouses, two-over-two condos and a commercial building in their place. The site is bounded by Fairfax Boulevard, Cedar Avenue and Walnut and Oak streets. 
Planned are 60 homes with 141 parking spaces. There'll be 40 townhouses 40 feet high, with 80 parking spaces; plus 20 condos 51 feet high, with 40 parking spaces and 21 surface spaces. Also envisioned are 8,000-10,010 square feet of commercial space with 44 parking spaces.
Utilities will be underground, and there'll be a playground and picnic area, plus four areas of open space – three, accessible to the public. Each unit will have a sidewalk connecting to the street, and there'll be a 10-foot-wide sidewalk/multi-use trail on Fairfax Boulevard. Also planned is a connection from the multifamily homes to the future commercial development, as well as crosswalks on the adjoining public streets.
Access points to the commercial part of the site are from Fairfax Boulevard and Walnut Street. There's also entry from Walnut Street to the condos, and access from Oak to the townhouses, plus emergency access to the townhomes from Cedar. There'll be a Metro bus stop on Fairfax Boulevard, and traffic impact from the project is expected to be minimal.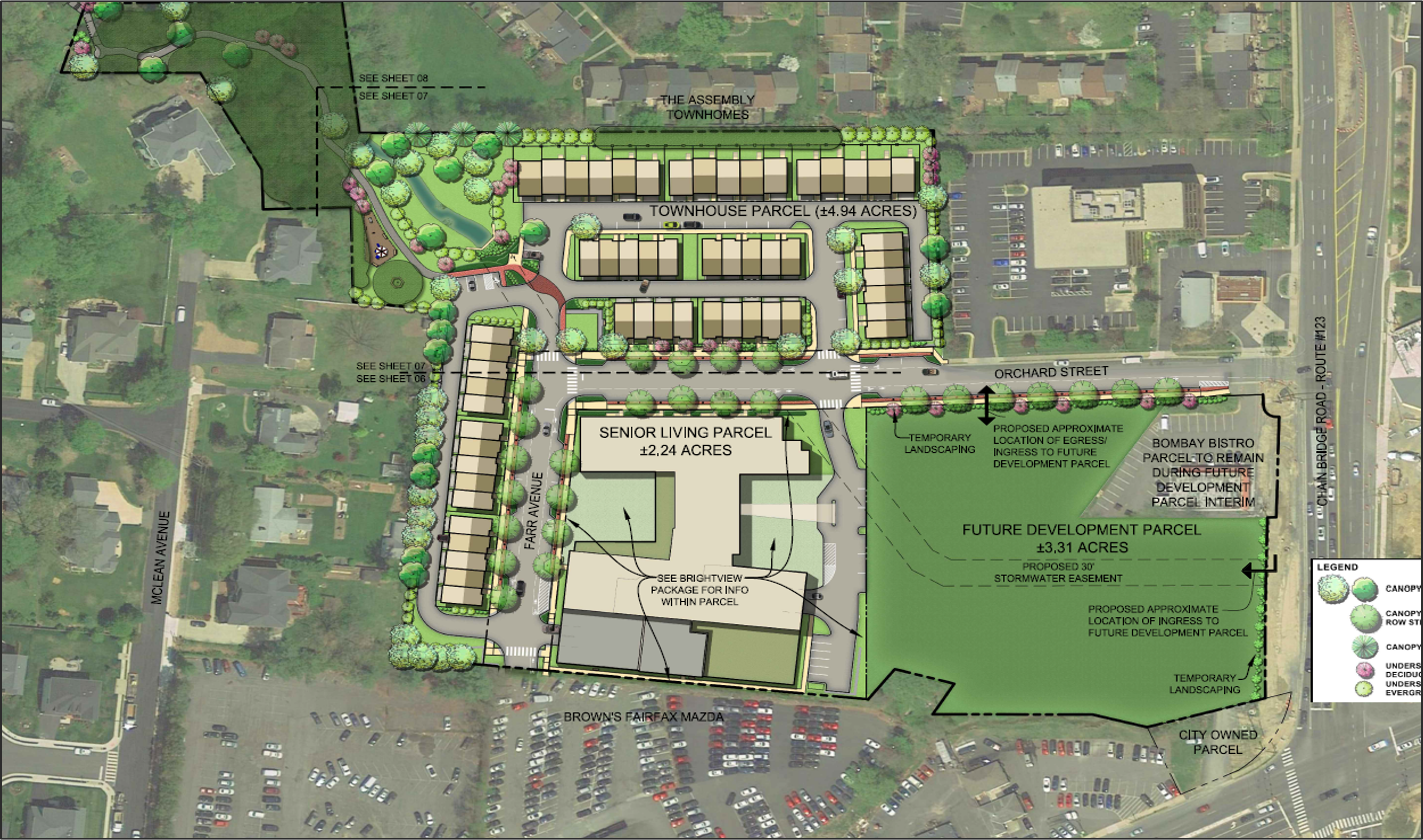 Northfax West site plan showing the townhouses, senior-living facility and future-development area.
Northfax West Revitalization  
Fairfax City's Northfax area is being revamped and revitalized at 3570 Chain Bridge Road. The work will be done as follows: 
* Phase One includes construction of a storm-drainage culvert, utility relocations, realignment of Orchard Street, three new crosswalks, a walking trail, sidewalks and bike lanes.
* Phase Two will be 56 townhouses built by Madison Homes along Farr Avenue and Orchard. They'll be 44 feet high and have 112 parking spaces (two per unit), plus 22 surface spaces for 134 parking spaces total.
* Phase Three will be construction of a seven-story, senior-living facility by Brightview. It'll contain 114 independent-living units, plus 86 assisted-living units and structured parking.
* Phase Four is the future development of 3.3 acres along Orchard and Chain Bridge Road. Planned are 25,000 square feet of office, retail and restaurant uses, 180 housing units and a 140-room hotel.
The project also includes extending Farr Avenue, restoring part of Accotink Creek in Van Dyck Park, and creating an 8-foot trail to Perry Street and Howerton Avenue, as well as a pocket park and tot lot for the townhouses.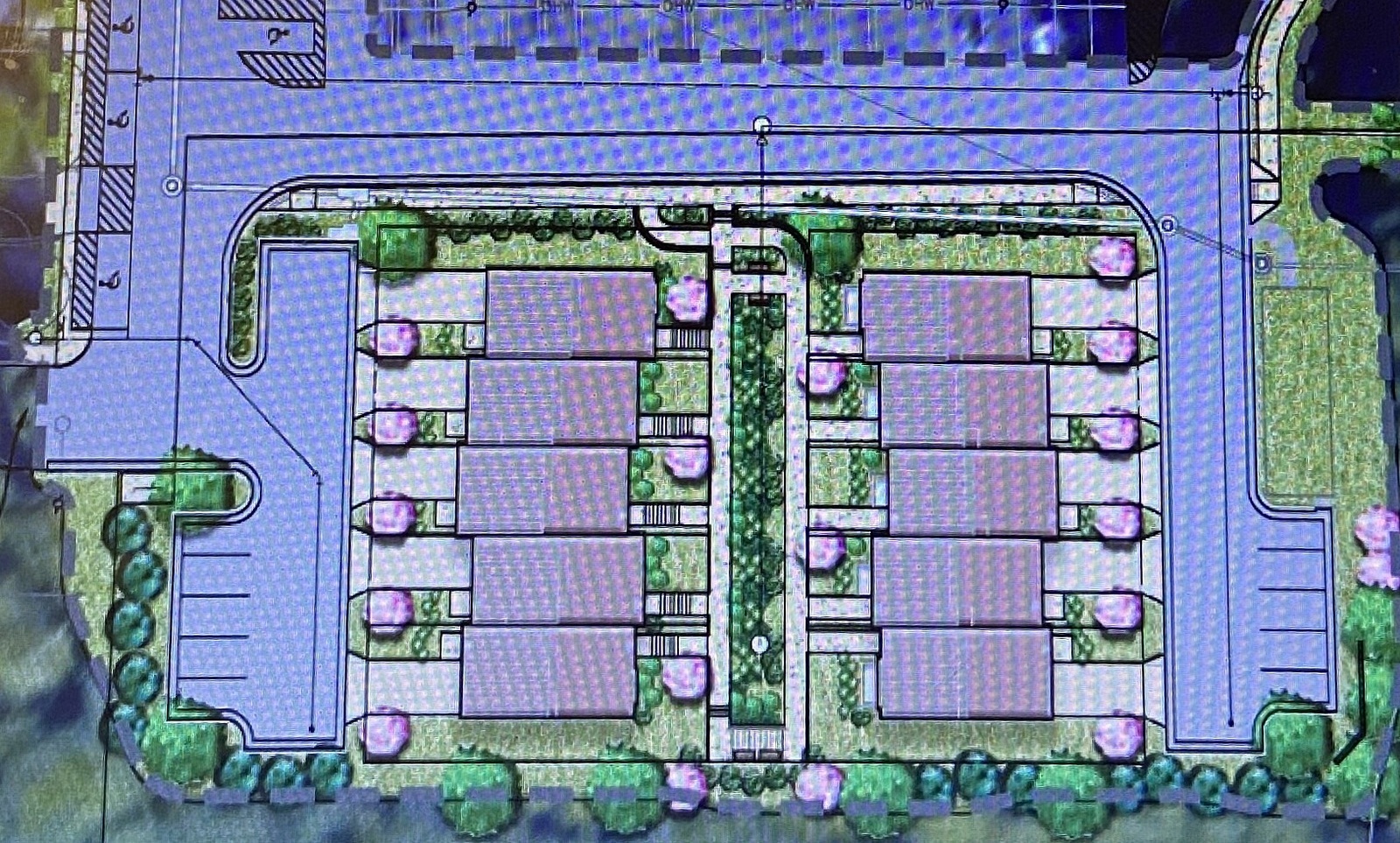 A site plan of the 10 Glebe View townhouses in Fairfax.
Glebe View Townhouses
Fairfax Presbyterian Church, at 10723 Main St. and Presbyterian Way, is donating some 1.6 acres of its land for affordable homes, called Glebe View Townhouses, to be built there. Habitat for Humanity NOVA is the developer, and nonprofit Homestretch/Sacred Homes will own two of the houses. HomeAid will provide building materials and tradesman expertise at reduced prices.
Constructed will be 10, brick-exterior, three-level townhouses, each with three bedrooms and two bathrooms, plus one-car garages and driveways. Ten visitor parking spaces will go on the western side of the property, and a new, 30-space parking area – including much-needed, handicap-accessible spaces – will be built in the southwest corner for the church's use. A walking path will go around the 8.25-acre church property, and there'll be two stormwater-management facilities where today there are none.
To help keep utility bills low, the builder will incorporate energy-efficient construction practices, appliances and lighting – including rooftop solar panels for all townhouses. The communal green area in front of the townhouses will include a pergola, solar pathway lights, benches and landscaping. 
The townhomes will go on the property's east side, adjacent to the Cameron Glen townhouse community. A sidewalk with steps will connect the church with the nearby Autumn Woods community. And a connection on the north side of the townhouses to the adjacent, existing trail by Accotink Creek will also be added.
Eight of the units will be sold to Habitat NOVA families earning less than the area median income.The other two will be sold to Homestretch for its Sacred Homes program lifting families out of poverty. Habitat homeowners will work alongside other volunteers to help build their homes. The sale prices will be below market value because the church is providing the land. 
"Rarely do we have an opportunity to do something so innovative, creative and unique to help people in need," said Christopher Fay, Executive Director of Homestretch. "The community of faith here has risen to the challenge – and this can be a new path for others to follow."