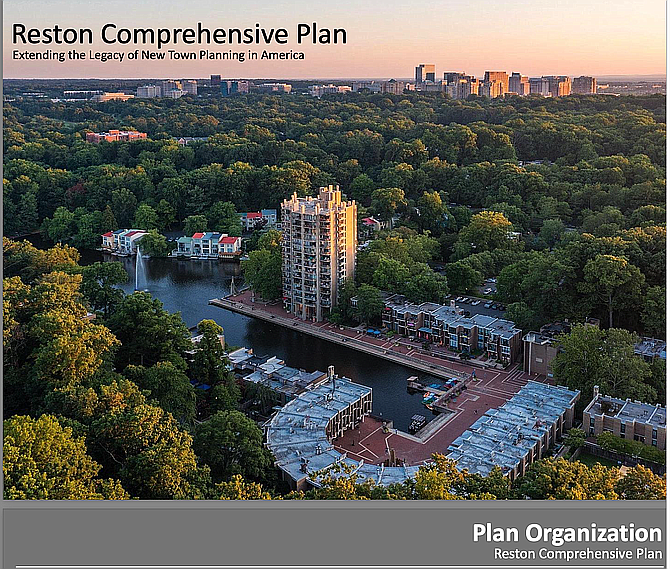 On Tuesday, Sept. 12, the Fairfax County Board of Supervisors  adopted the new Reston Comprehensive Plan which includes updates to guidance for topics like affordable housing, open space and community health. The newly adopted plan  applies to all 8,400 acres of Reston's planned community, including roads.
Supervisor Walter Alcorn represents Reston on the board. 
"Since my Board Matter almost four years ago, dedicated community members, Planning Commissioner John Carter and county staff have put in countless hours on creating a new draft Reston Comprehensive Plan," Alcorn said. It has been an exhausting process for all involved.
Reston residents attended over 60 virtual and in-person public meetings over three years to comment on the proposed Reston Comprehensive Plan Amendment. The board, Planning Commission, and county staff noted and considered the comments.
"The adoption of the Reston Comprehensive Plan Amendment is a momentous achievement for Reston, ushering in a new era that ensures Reston's continued success," said Board of Supervisors Chairman Jeffrey C. McKay. "This updated Plan safeguards existing neighborhoods and improves transit. It also sets the stage for the future of Reston, that is both responsive to the core values of Reston's founder, Bob Simon, and to the valuable position that Reston plays as a major economic development location in the County." 
On July 19, 2023, the Planning Commission voted 12-0 to recommend the plan, PA 2020-III-UP1, to the Board of Supervisors; the county executive also supported the amendment according to the agenda item.
The amendment updates Reston's Comprehensive Plan in multiple areas: planning principles, land use, transportation, housing, parks and open space, environmental stewardship, heritage resources, public art, equity, community health, and economic development. Here is an overview of the goals of those updates.
Plan features include maintaining residential density in village centers, focusing on higher-intensity mixed-use development in Reston Transit Station Areas, and protecting, maintaining, and providing transitions to surrounding residential neighborhoods. The plan emphasizes Reston Transit Station Area redevelopment.
The plan removes the residential redevelopment option for the village centers' non-residential areas except for Lake Anne and Tall Oaks. It requires a Comprehensive Plan amendment to exercise a residential option.
Transportation uses multimodality to provide equitable, safe, efficient, attractive, and reliable travel options for current and future Reston residents, employees and visitors.
As per countywide workforce dwelling policy, housing guidance includes the area median income for rental workforce dwelling units. It also has "a minimum of 12 percent [workforce dwelling units] and maintains the sliding scale for the percentage of WDUs currently included in the adopted Reston Comprehensive Plan."
Parks and open space guidance retains Reston's list of public parks that serve Reston in the current adopted plan and allows for the equivalent of 12 athletic fields of various sizes and a provision for unprogrammed open spaces for sports and activities.
Environmental Stewardship specifies its vision and its challenges while offering Reston-specific solutions.
Heritage addresses the need to identify, evaluate, protect, and support Reston's known and potential heritage resources to maintain their interpretive link to Reston's history and ensure that current and planned public facilities will follow Reston Comprehensive Plan principles.
Public art ensures developers coordinate projects with Public Art Reston early on and work with local and national artists and organizations.
Equity focuses on community health and economic development elements. Housing policies allow all Fairfax residents a full range of opportunities, especially in mixed-use areas with multiple transportation options. Workforce development pathways give people the skills to work in a diverse economy and support their families. Healthy, accessible, affordable food is essential for a vibrant food system. Equity stresses the importance of nature-human interaction. Healthy and quality living and working conditions reflect the need to enjoy clean air and water now and in the future.
Quality facilities, programs, and services for all communities make the parks and recreation system equitable and inclusive. An equitable transportation vision includes a multimodal system to provide safe, efficient, attractive, and reliable travel options with equity for current and future Reston residents, employees, and visitors.
The newly adopted plan is the result of a Reston Comprehensive Plan Amendment process, which was authorized by the Board of Supervisors in response to Hunter Mill District Supervisor Walter Alcorn's Board Matter presented in January 2020.