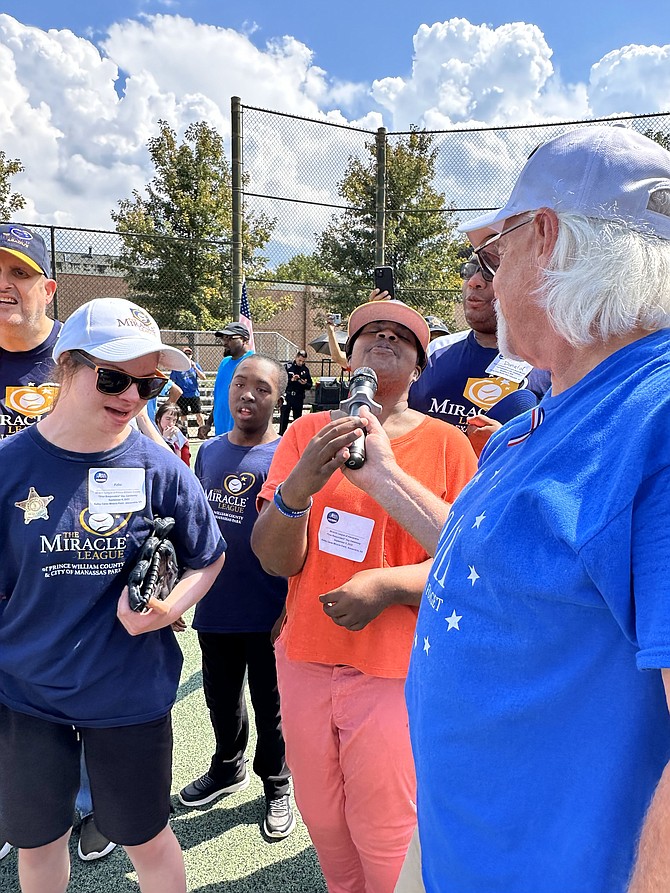 For centuries, Alexandria has been known primarily as the hometown of George Washington, attracting history aficionados from across the globe to its cobblestone streets and lively waterfront. But there is also the city's more complicated history as home to Robert E. Lee, slavery and segregation.
Thanks to the work of city historians and dedicated volunteers, a fuller history is slowly being told of the city that was first settled in 1695 and formally founded in 1749.
While Mount Vernon was Washington's primary residence, there are many buildings with ties to the Founding Father including Gadsby's Tavern and Christ Church, both popular tourist attractions.
But Alexandria was also once known as a thriving trading port of enslaved people. The Franklin and Armfield Slave Pen at 1315 Duke Street was one of the largest trading companies of enslaved people in the country. The Freedom House Museum is what remains of the large complex dedicated to trafficking thousands of Black men, women, and children from 1828 - 1861.
Then thousands of African Americans flocked to the city during the Civil War fleeing the bondage of slavery in the south. With living conditions crowded and dire, many perished from disease and deprivation.
"Alexandria was a great place to grow up."
— Sixth generation Alexandrian Tom Hulfish
In 1864, after hundreds had died, the Superintendent of Contrabands, as the freedmen were known, ordered that a property on the southern edge of town be confiscated for use as a cemetery and an estimated 1,800 African Americans were laid to rest there before the last burial took place in January of 1869.  Today, the Contrabands and Freedmen Cemetery Memorial is a significant site as part of the African American Civil Rights Network.
"We are so proud to be the first Virginia site included with the Civil Rights Network," said Audrey Davis, director of African American History of the Office of Historic Alexandria when the site was dedicated in 2021. "It is so important to us that people are now recognizing the petition for this cemetery as one of the earliest Civil Rights actions in Alexandria. While it is not the earliest, it is a very, very important organized fight for Civil Rights by African Americans and we are very proud of that."
With a population of just under 13,000 in 1860, Alexandria is now home to 160,000, some with ties dating back more than two centuries.
"Alexandria was a great place to grow up," said Thomas Hulfish III, a sixth generation Alexandrian whose first family member arrived as a Scottish sea captain in 1780. "I loved playing along the industrial waterfront. Alexandria was here because of the river and when the railroad arrived it became a busy, bustling town."
Hulfish has seen many a resident come and go over the years, including his childhood friend Willard Scott. But too many newcomers do not take the time to enjoy what makes Alexandria special.
"I know so many people who live here and really don't know Alexandria at all because they don't do anything other than go to work in Washington and come home," Hulfish lamented. "The best way to enjoy Alexandria is to join the community. Do something. Join organizations – churches, civic associations – anything to take part in the community."
In addition to George Washington and Robert E. Lee, the city also claims musician Jim Morrison and House of Cards creator Beau Willimon as hometown notables.
History buffs will know that U.S. president Gerald Ford was a longtime resident and that U-2 pilot Francis Gary Powers lived here after he was released from a Soviet prison in 1962. And Earl Lloyd, who grew up in a segregated Alexandria, was the first African American to break the color barrier in the NBA in 1950.
At 15.4 square miles, pre-pandemic Alexandria hosted nationally recognized events such as the Scottish Walk Weekend and Del Ray's Art on the Avenue, both of which have continued to grow since making their return. But off the beaten paths of King Street and Mount Vernon Avenue are attractions such as the Tomb of the Unknown Revolutionary War Soldier and the National Inventors Hall of Fame.
Another Alexandria landmark is the Captain Rocky Versace Plaza and Vietnam Veterans Memorial. Located in front of the Mount Vernon Recreation Center, the plaza honors the 68 Alexandrians who lost their lives in the Vietnam War.
King Street in Old Town and Mount Vernon Avenue in Del Ray serve as the shopping and dining hubs of the city. Both are lined with locally owned boutiques and restaurants that are once again thriving after the challenges of COVID-19 guidelines.
"I've enjoyed Alexandria so very much. I never thought about living anywhere else," Hulfish said.