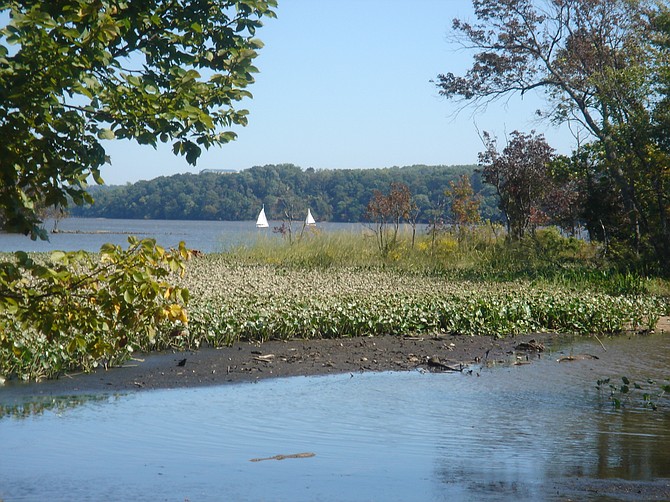 It doesn't have Yellowstone's spewing geysers or Denali's high peaks, but it is a national park. It's the George Washington Memorial Parkway, which stretches from Mount Vernon Estate on the south end, with a break on Alexandria's Washington Street, then to the Beltway/495 in McLean and the seven-mile Clara Barton Parkway in Maryland.
Listed on the National Register of Historic Places, the parkway is a slow-speed thoroughfare, with 4,580 acres of parkland mostly paralleling the Potomac River. By design, it is not a multi-laned, superhighway, asphalt ribbon. The parkway is in fact a national park, with many sweeping vistas, a rich history and 25 possible stops in Virginia, Maryland and Washington, D. C.
Its designers envisioned a series of changing vistas that highlight special places. There's no central visitor center, yet the parkway has approximately 7.3 million recreational visits a year and over 33 million non-recreational "visits." Most of the latter are local and commuter traffic.
What's There?
Here are a few sites to visit:
* Fort Hunt Park, where the 1902 Battery Commander's Tower stands largely unchanged, built as part of the Spanish-American War's coastal defense, from which the commander could coordinate firings from still-standing batteries. In World War II, Fort Hunt, known as P.O. Box 1142, was a top-secret camp used to interrogate over 3,500 German prisoners of war.
* The Dyke Marsh Wildlife Preserve, a 480-acre, freshwater, tidal, narrow-leaved cattail wetland, one of the last along the Potomac River.
* Jones Point, home to one of the country's last riverine lighthouses, which operated from 1856 to 1926. President George Washington chose this point as the southern tip of the new 10-mile-square-mile U.S. capital district. 
* Tributes to war heroes -- the U.S. Marine Corps Memorial, Arlington House, Arlington National Cemetery and the Waves and Gulls memorial, honoring the U.S. Navy and Marine Corps.
* Glen Echo Park, centered by a restored, 1921 Dentzel carousel. In its heyday, bands like the Dorsey Brothers and Bill Haley and the Comets performed in the 7,500-square-foot dance hall.
* The Potomac Gorge, a 15-mile, rugged river corridor, a nationally significant natural area. 
* Great Falls, a series of cataracts and falls, one of the most ecologically significant natural areas in the entire national park system. British politician Lord Bryce wrote in 1913, "No European city has so noble a cataract in its vicinity as the Great Falls of the Potomac. . ."
* The 17-acre Lady Bird Johnson Park and LBJ Memorial Grove, with a 43-ton, Texas granite monolith, looming amid white pines, dogwoods, azaleas and rhododendrons. 
* Theodore Roosevelt Island, largely a woodland that planners intended it to be "similar in character to the natural primeval forests which once covered this and others of the Potomac islands." A memorial honors the island's namesake. 
* Fort Marcy, well-preserved Civil War earthwork walls, trenches, rifle pits and a parade ground.
A Unique Road Envisioned
The Parkway's planners designed a road to preserve and enhance the Potomac River valley and honor the nation's first President, George Washington, by creating a grand gateway to his home, Mount Vernon.
They wanted to keep both banks of the river in public ownership. Lt. Col. Peter Hains, the first land surveyor, told Congress that the parkway should "have the character of a monumental structure, such as would comport with the dignity of this great nation … and the grandeur of character of the man to whom it is dedicated …. It should be such a work as no American need feel ashamed of."
The road's designers sought to integrate the road with the natural undulating terrain and contours, winding in gentle curves and highlighting natural areas and vistas. The National Park Service has planted over 250,000 trees, shrubs and vines.
Sections between the 14th and Memorial Bridges were left open to offer sweeping views of Washington, D. C. Signs and lights are minimized and billboards are prohibited. Most of the bridges are made of reinforced concrete faced with hand-laid, rough-cut stone for a natural look.
Built in Stages
Some local businesspeople, the Mount Vernon Avenue Association, initiated the idea in the 1880s, advocating for a national road from Washington to Mount Vernon. Officials deferred road construction in the 1890s and between 1892 and 1896, built the Washington, Alexandria and Mount Vernon Electric Railway through Alexandria to Mount Vernon, a trolley that carried Mount Vernon visitors, locals and farm goods. A trolley station sat in today's circle at Mount Vernon.
The initial federal sponsoring agency, the U.S. Department of Agriculture's Bureau of Public Roads, wanted to demonstrate modern highway design principles like overpasses, cloverleaves, limited access, widely-spaced exits and entrances and tree-lined rights-of-way. Officials dedicated the first segment from Arlington Memorial Bridge to Mount Vernon in 1932 and hailed it as "America's Most Modern Motorway." It was built in stages from 1929 to 1970.
Engineers designed the southern part, the Mount Vernon Memorial Parkway, for vehicles going 35 to 45 miles per hour. Its successor, the George Washington Memorial Parkway, anticipated speeds of up to 60 mph. Sections built after World War II have longer curves and continuous safety medians.
By the late 1940s, the road went as far north as Spout Run. Builders completed the northern part in the 1950s and 1960s, partly spurred by the Civilian Intelligence Agency's (CIA) headquarters locating at Langley. President Dwight D. Eisenhower cut the ribbon and opened the road to traffic on this part in 1959. By 1962, the parkway reached the new Beltway.
The original plans included a parkway from Fort Washington, Maryland, north to just above Great Falls, but this was never built, some say because there was no equivalent to the CIA or Dulles Airport driving its construction. 
Respecting Nature
For an urban park, the parkway is especially rich in biodiversity. For example, for species counts, the parkway has at least 25 mammals, 243 birds, six native turtles, 99 trees and 591 wildflowers. At least 81 plants and animals considered rare, threatened or endangered in Virginia or Maryland.
Visitors might watch bald eagles fighting over a fish, as a jet descends to National Airport; great blue herons feeding as an Army or Marine helicopter passes overhead; a spring wildflower "show" at Turkey Run Park; a silver-haired bat darting around at dusk; turtles sunning and wild rice billowing in the fall breeze in Dyke Marsh.
    It's a special road, but not just a road, a national park.
Information: www.nps.gov/gwmp