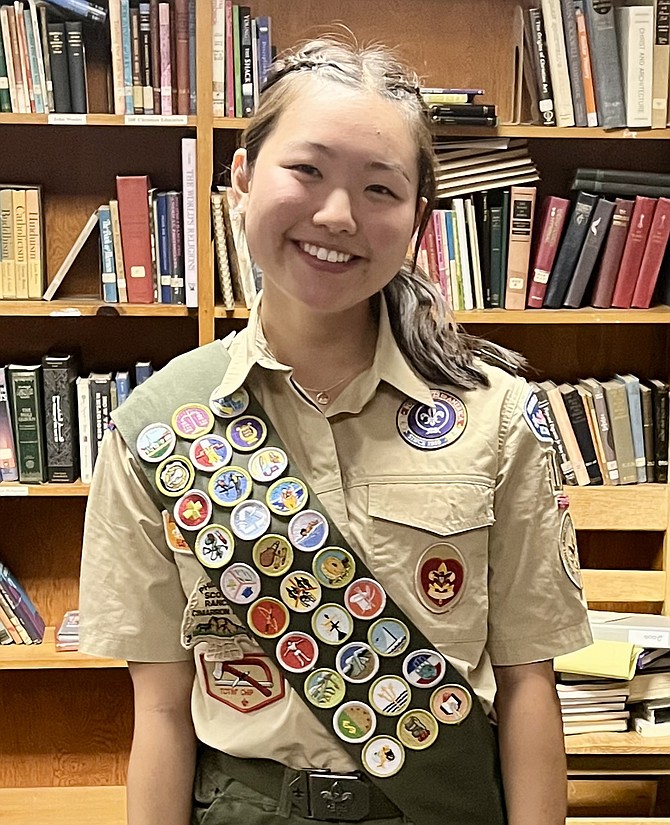 Photos Contributed
Arl091323-430
Avery Park achieves rank of Eagle Scout as one of first females in the country.
Arl091323-432
Doorways fifth floor storage room before and after Avery Park's reorganization and online tracking system.
Arl091323-433
Avery Park and her mother at the Volunteer Arlington "Arlington Cares" event where Park received the Youth Service Award. 
Avery Park Receives Eagle Scout Rank
One of first females in country to achieve status
By Shirley Ruhe
Arlington Connection
Avery Park from Arlington is one of the first females in the country to achieve the rank of Eagle Scout. She says usually it takes 7 years to achieve Eagle Scout status but she did it in four. She chose to organize the fifth floor storage space for Doorways and develop an online tracking system as her Eagle Scout project. "I knew I wanted to do something to support women and children."
Park says she knew about Doorways and met with them to get help with ideas. Joy Myers, Development Director of Doorways which provides shelter and protection for women and families escaping violence, came up with the idea. Myers says, "Remember that Doorways encounters families and individuals in crisis. Many are fleeing violence and have only the clothes on their bodies. We try to have everything on hand to make our care comfortable for the survivor and their family."
Myers says, "The beautiful space Avery created for our comfort and care supplies is a bright projection of the combination of who she is and the Doorways mission."
Park said she took several months developing the plan for how many bins, how many volunteers and all the details and had it approved by the Scout hierarchy. It may sound straightforward, but she says the storage room was pretty disorganized in the first place and then Covid came and they got a lot of donations and no one there to organize things. "We had to figure out how to measure — how big is a towel, a box of diapers with 12 in a pack. They had to be sorted by age of child, absorbency, size."
In addition, they sorted cosmetics, hygiene products, children's books and art supplies and cleaning products. She says she had about 25 volunteers including 20 in her Scout troop and five adults who spent the first day moving everything out of the room. The second day they moved everything back into its allotted space and bin with an appropriate label. The second part of the project was uploading all of the supplies into a computer system using online forms that she says would make it easy for the Doorways staff to use and maintain.
Linley Beckbridge, Director of Communications and Advocacy at Doorways says, "Avery's plan addressed multiple challenges we faced with maximizing our use of the space, while also preparing us for our upcoming move of our administrative offices, including our storage. Her plan included multiple game-changing solutions. First, effective organization of the physical storage space and the items there; second, an online inventory system to help us track what we have and what we need; and third, portability, so we can take the systems with us …. Because her solutions are sustainable, these systems are still in place and working to help us make the most of our in-kind donations today."
Park belongs to one of the first female Boy Scout troops in Virginia. She says she joined Scouts at 13-years-old when they went coed and started a girl's troop. Now she says the troop has about 30 active girls. Park has earned 33 or 34 badges to date with her favorite being the wilderness survival badge. 
"We had to survive overnight with what we had — build a hut out of logs. It was my first time doing something like this, a little scary but I was with friends, and it was a good experience overall." But she remembers it did rain and that part wasn't too cool. She also liked working for her rifle badge, I'd never held a gun. It was really fun." 
I always knew my brother and dad were involved in Scouts. I saw the leadership, outdoor skills, building character and meeting people. It looked like so much fun."
If you ask her what she really likes to do. "It was that high adventure trip last summer backpacking 150 miles in New Mexico for 12 days. It was so much fun. I really love to be outside."
In July, Park was presented with the Youth Service Award at Volunteer Arlington's "Arlington Cares" event. They praised her efforts as going above and beyond her service hours and having a significant impact on lives, finding a passion. Park said she knew the only difference between her and the clients at Doorways was that bottle of shampoo, that box of diapers. "Giving back has given me something."
.