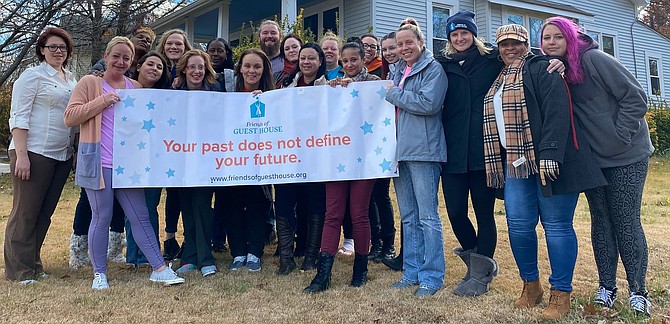 The washing machine broke. What to do? Guest House is a temporary residential facility with several locations in Alexandria for nonviolent women ex-offenders. They had a crisis on Sunday, Sept. 17 when their three-year old, much-used washing machine just quit and couldn't be repaired. A new washing machine wasn't in the budget.
Sonja Allen, Executive Director of Guest House, explains in her appeal letter to donors, "Laundry is not just about cleanliness; it's about dignity and self respect. A washing machine allows our residents to care for their clothing and personal hygiene, boosting their self-esteem and overall well-being." 
She points out that clean and presentable clothing is vital for job interviews and employment retention. It allows the women to take responsibility and be in charge of their daily routine
Allen explains that for individuals transitioning out of incarceration, every dollar saved is invaluable, and a new washing machine will reduce the cost of laundry and free up resources in the budget for housing, food and education.
Currently the residential facility on Luray Avenue where the washing machine broke has 8 residents and each resident has a laundry day. Since the machine broke on Sunday Sept. 17, the women have been without laundry facilities.
Katie Shapiro, Development and Volunteer Coordinator, said they decided to bite the bullet and buy a washer that wasn't in the budget and hope to offset the cost. Guest House decided to send out an appeal "just to see whether the supporters in the community would donate." The good news is that within 24 hours they had the $1,500 needed to buy a new Whirlpool 3.3 cu ft commercial top load washer which is coin operated. Shapiro says the laundry is free for the women but giving them the coins is a lesson in budgeting and life skills. Each woman does about three loads of laundry on her assigned day including her clothes, sheets, comforters and towels. 
Shapiro says they want to give a really big thank you to the community. "If you sent in money after the goal was met, not to worry because we have a lot of needs in a hundred-year-old house — the bathroom, the garage door needs fixing."
Shapiro says Guest House is generally full with a long wait list. But since COVID they haven't been able to get into the prisons to tell the inmates about Guest House and share by word of mouth about the facility so the enrollment has been down a little. She says they are currently welcoming applications. Check the Friends of Guest House website for additional information.
Friends of Guest House helps women successfully reenter the community from incarceration. Guest House has helped more than 5,000 women break the vicious cycle of incarceration, reunite with their families, and reintegrate into their communities. 
Guest House helps women to avoid the revolving door of prison and homelessness by providing secure housing, job training, and other support services as part of its six-month residential program followed by an Aftercare program for up to two years.