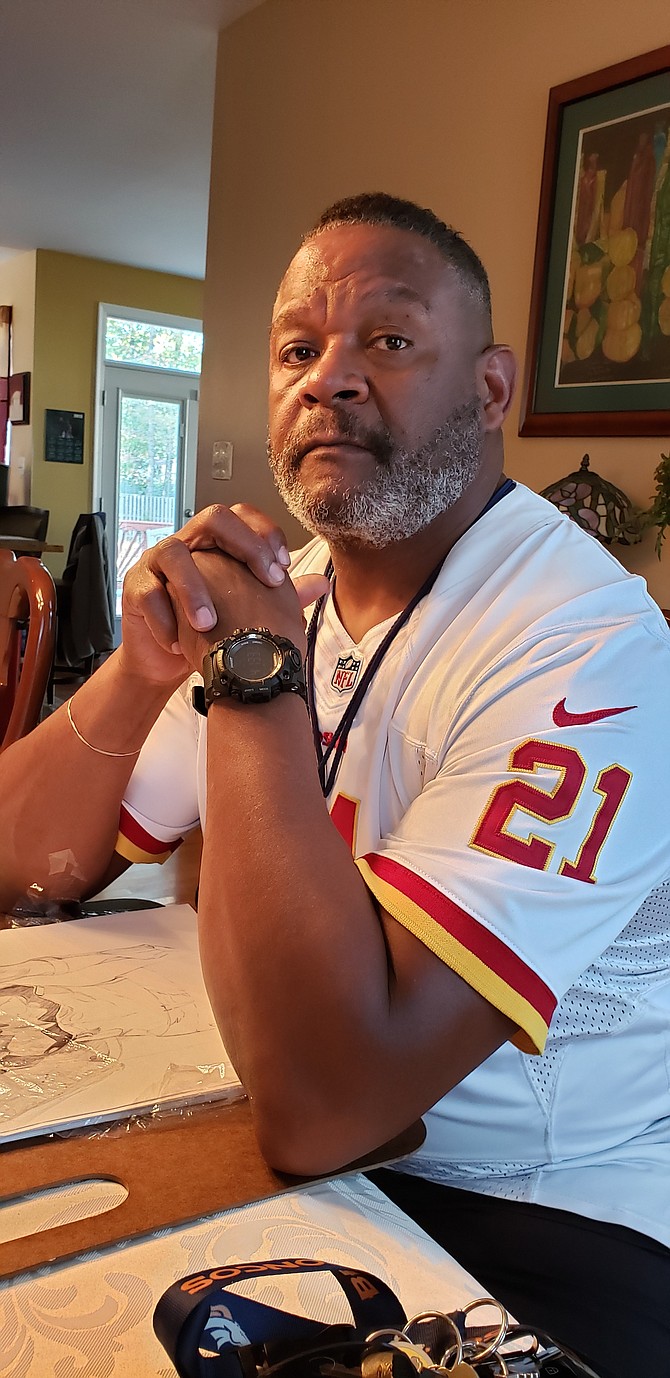 It all started when someone gave him a crayon at 4 years old. Now Barry Keith is a rising painter with a show called "The Pluviophile" opening at Gallery Underground in Crystal City on Oct. 3 and running through Oct. 28. Keith is prolific and has had 21 solo shows around the area including other solo shows at Gallery Underground.
Keith says this show is dedicated to his older sister. "I was very close to her, and she died just a month before her 65th birthday. She used to tell me how much she loved the rain because it calmed her. The day I gave her eulogy it rained so I took a lot of pictures and created this show for 'one who loves the rain.'" He says the show is very colorful with different palettes representing a lot of emotions.
When he isn't painting, Keith is an elementary teacher at Mattaponi Elementary in Prince George's County and has an art club for 100 students ages 7-12 years old. "We paint. I take them outside to draw nature; we play with clay and do crafts. We even had a dance party, they loved it." He says, "Some kids are so articulate. When you see kids with interest at this age, it can be amazing." 
Previously Keith taught high school students at Suitland High School for 15 years.
"One thing I love is translating the beauty of the world. I never took notice until I got into recovery."
— Barry Keith, painter, 31 years sober
But Keith tells his students that when they are just getting off the bus, he is at home in Accokeek putting on his apron. And he tells them that's when his day starts. "It takes a lot of energy after all day with kids that age." On the weekends he will paint outside. "I have a lot of images to work with."
Keith considers himself an en plein air painter which is a French expression for painting in the open air where the artist has a better ability to see the light and color. However, Keith comments it has been too hot to paint outside much this summer. "Now the weather is getting better for me." 
En plein air has been used for centuries but was popularized by the French Impressionists, and Keith says his love of Impressionists forced him to paint outside. Keith began drawing Marvel cartoons for the other kids in the class when he was in grade school in Alexandria where he was born and grew up. By the time he was at the University of Delaware he was taking graduate art and design courses in his sophomore year. "Sometimes I was the only one in the class."
He says in the beginning they would paint abstract objects and bring them to class to critique for light, shade and color. "But these had no meaning. Once I got outside and started to paint landscapes I developed the real idea of painting." He started using his materials in a different way, using transparent glazes and learning how to manipulate materials instead of just straightforward. "I grasped the form." Keith says his goal is to become a great American painter who is considered on the level of someone like Edward Hopper.
But his experience at the University of Delaware was mixed. "I felt a sense of inadequacy. It was 98 percent White, and some teachers were really hostile. One teacher gave me a D because he thought I knew the material too well, and thought I must be cheating." Keith started to drink, and by the time he graduated he says he was smoking weed and then went to hard drugs. He was working to fuel his habit.
But Keith says eventually he was forced into treatment by the State of Virginia. Keith explains he was caught by the Alexandria police and they put him in a program which required him to report to the courthouse. "But I kept coming up dirty and they said they were tired of this." They put him in detox at Phoenix House in Arlington where he spent 90 days. "It was May 5, 1993.
"I was lucky to get help. I realized when I got to Phoenix House that I hadn't slept for 10 years." He says Phoenix House made him focus on himself "to get to the bottom of why I felt inadequate. You step outside yourself to see where everything is going." 
He remembers when he was ready to leave Phoenix House, "They looked at the 75 of us there and said 'only 2 of you will be sober next year.' I got so angry. He was speaking of statistics. I didn't want to be one of those." Once Keith left the program he never drank again and has been 31 years sober.
Keith reflects, "Sometimes it will click that I've gone from a drug addict to someone who values life and art." Keith is also writing books and currently has four on the market. 
"The power of living reflects my relationship with my family and friends. One thing I love is translating the beauty of the world. I never took notice until I got into recovery." 
Now he thinks, "Who am I when no one is looking? It is the solitary pursuit of crafting things alone."