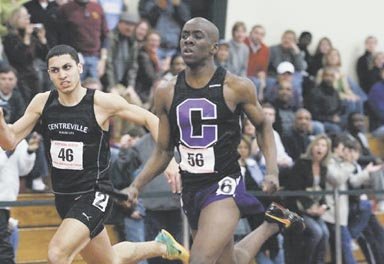 In a photo finish, Chantilly's Mohamed Labor-Koroma (right) crosses the finish line just ahead of Centreville's Yazid Zouaimia in the boys' 4x800 relay race at last Saturday's Northern Region track and field championships at George Mason University. The Chargers' championship relay foursome was made up of Matt Cumpian, Eric Rolfe, Chris Foley and Labor-Koroma. For more results on the region meet, go to Centre View North Sports at connectionnewspapers.com.
Stories this photo appears in:
Motivated Zouaimia wins boys' 1000; Chantilly, Westfield have highlight moments as well on both boys' and girls' side.
Centreville Boys' Strong Track Postseason Continues at Regionals