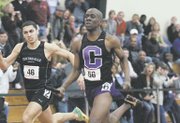 Two weeks after earning co-Concorde District championship accolades, the Centreville High boys' indoor track and field team continued its outstanding postseason run with an impressive fifth place finish at the 25-team Northern Region championships. The postseason competition took place on Feb. 20 at the George Mason University Fieldhouse in Fairfax city.
Centreville, which two weeks ago put together a stellar showing at districts to earn a first place tie with Robinson, accumulated 36 team points at regionals to garner fifth place, tied with Hayfield. The team champion was South Lakes High (72), which successfully defended last year's region crown. The Seahawks finished ahead of second place Langley (54), third place Fairfax (37) and fourth place Lake Braddock (36.5). Rounding out the top 10 behind Centreville and Hayfield were Edison and Robinson, which tied in seventh with 34 points , followed by ninth place Chantilly (33) and 10th place Annandale (28).
One of the best events of the day came in the boys' 4x800 relay. The relay race winner was Chantilly, whose final leg runner Mohamed Labor-Koroma barely crossed the finish line ahead of Centreville's Yazid Zouaimia.
Chantilly's winning 4x800 team was made up of senior Matt Cumpian, junior Eric Rolfe, senior Chris Foley and Labor-Koroma. Members of the second place Centreville relay were junior Robert Kelly, senior Joey Hannah, senior Mattson Heiner and Zouaimia.
A little while later following the dramatic 4x800, Centreville's Zouaimia, frustrated by the close second place relay finish and highly motivated to excel in his next event, won first place in the 1,000-meters race. The senior Wildcat, in perhaps Centreville's highlight moment of the day, finished ahead of second place Ahmed Bile of Annandale and third place Foley.
"Yazid was very fired up after the boy's relay lost by 15-hundreths of a second," said Kelley Devlin, a Centreville track assistant. "It was so darn close. He gave his anchor leg everything he had, running a fast and gutsy 1:55 leg, to try to get the championship. So he was very disappointed after that defeat and was not going to settle for less than a win in the 1000."
And Zouaimia indeed got it, running a terrific 1000.
"He ran a very smart, strong and competitive race, sitting on the leaders for the first couple of laps," said Devlin. "With 400 meters to go, he surged to take the lead where he wasn't challenged the rest of the race, running a 2:34.25 - his personal best and enough to get him the regional title! His outstanding season continues and all of his hard work and dedication is paying off."
Zouaimia was not scheduled to run the 1000 event at states, but was instead gearing to take part in the 3200 race as well as anchoring the 4x800 relay. At nationals in a few weeks, Zouaimia will race in the 1600 event.
While Centreville did not have any other first place event winners at regionals besides Zouaimia's victory in the 1000, the Wildcats did have several other solid outings and place finishes. The Centreville 4x400 relay team finished third place, behind first place South Lakes and second place T.C. Williams. The Wildcats' foursome was made up of junior Austin Erickson, senior Chris Mbaidande, senior Terrance Kennedy and senior Paul Barbour. Madison High finished fourth in the relay and West Potomac was fifth.
Centreville's Kennedy took fourth place in the boys' high jump event. The Chargers' Labor-Koroma was right behind him at fifth place. Kennedy also earned an eighth place finish in the shot put event. And in the long jump event, Centreville's Barbour earned a stellar fifth place finish. Barbour was also seventh in the triple jump.
Other local boys to earn top eight finishes at regionals were: Labor-Koroma (8th in the 300 dash), Chantilly freshmen Sean McGorty (8th in the 3200), and Chantilly sophomore's Andrew McDuffy (8th in long jump).
From the Westfield High boys, senior Alex Falcetti took a fifth place finish in the shot put.
<b>ON THE GIRLS' SIDE</b> at regionals, Westfield, Chantilly and Centreville finished seventh, 12th and 16th, respectively, among 26 total teams. Westfield actually finished in a tie for seventh with West Potomac, and Chantilly tied for 12th with Mount Vernon.
In the 500 race, Westfield senior Rachel Hohman took fifth place. Chantilly sophomore Jacquelyn Sieder, in the same event, finished seventh.
In the 1000, Chantilly senior Rachel Grochowski earned a seventh place finish and Westfield sophomore Amanda Cameron took eighth
Grochowski fared even better in the 1600, garnering a fourth place finish.
In the 3200 race, Centreville junior Juli Cuomo took seventh place.
Westfield had two top finishers in the 55-meter hurdles with senior Rachel Dillon getting third place and teammate Leigh Serroka, also a senior, taking seventh.
Dillon also took seventh in triple jump.
In the 4x800 relay, Centreville's foursome of Cuomo, freshman Isabella Medina, sophomore Hayley Anderson and senior Katey Hickey earned fifth.
In girls' pole vault, Centreville senior Katie Bannon finished an outstanding second behind Falls Church senior Riley Louden. In the same event, Chantilly's Nina Ullom, a junior, took fifth and Westfield senior Emma Stewart took eighth.
In the high jump, Chantilly senior Olabisi Abisogun was seventh.
In girls' shot put, Westfield junior Kaylin Newman finished third, while Chantilly senior Sarah Meier was sixth in the same event.