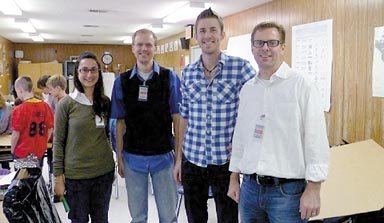 From left: Gina Volpicelli and Brian Kendell of MG2, sixth-grade teacher Jay Crowell, and Doug Brookbank of MG2. The MG2 volunteers "often find new innovative ideas they haven't thought of themselves," while working with students.

Stories this photo appears in:

Sixth graders design community on Mars.
"Precise" is not a word that sixth graders typically use. But the word pops up often when speaking to sixth graders from Jay Crowell's class at Kent Gardens Elementary.