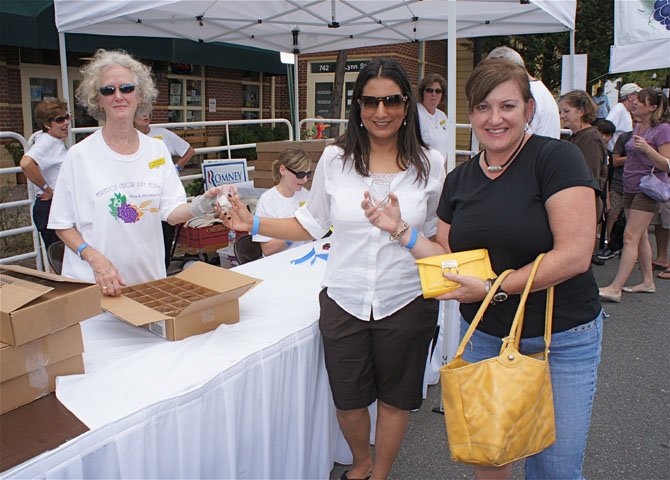 Welcome to the festival: From left, Carol Wright, a member of the Herndon Women's Club and festival volunteer, welcomes Cheryl Monahan and Bonita Parker at the entrance. "Hey, we're just here to keep adding to our wine glass collection," joked Parker, originally from Herndon. This will be the third time that Parker and Monahan have visited this festival.
Stories this photo appears in:

24th Annual Labor Day Festival features beer, wine and fun.
From noon to 6 p.m., Historic Downtown Herndon was hopping on the holiday. The Town of Herndon Parks and Recreation Department and their partners, the Herndon Women's Club, produced the town's 24th Annual Labor Day Festival. Chipper volunteers from the club welcomed the festival-goers, collected the cash, and checked id's before handing out those coveted commemorative wine tasting glasses, which were put to good use at booths representing no less than 12 Virginia wineries. "Between the wine, the beer, and the cooking demonstrations, there's definitely an adult flavor to this festival," said Alanna Greaves of Reston.