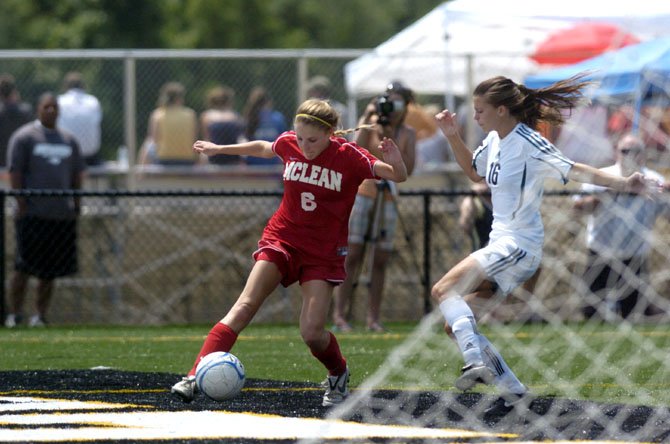 Centreville lost to McLean at last year's region semifinals. The Highlanders went on to win the state crown with a win over Cox High (pictured). But the Wildcats defeated the defending state champion Highlanders earlier last week on March 27.
Stories this photo appears in:

Wildcats preparing for next week's start of Concorde soccer play.
The Centreville High girls' soccer team, following a breakthrough 2011 season a year ago which saw the Wildcats go 13-3 and advance all the way to the Northern Region tournament semifinals before their season ended with a Final Four loss to eventual state champion McLean, is off to a solid start this spring. Centreville, after beginning the season with a 2-0 road loss at W.T. Woodson High (Patriot District) on March 13 and then playing visiting Yorktown High (National District) to a 1-1 tie two days later, is currently on an impressive four-game win streak with the victories coming over visiting T.C. Williams (Patriot), 5-0, on March 19; at West Springfield (Patriot), 1-0, on March 23; a 2-1 triumph on March 27 over guest McLean (Liberty District), the same Highlanders' squad which ended the Wildcats' hopes of qualifying for the state AAA playoffs last year; and a decisive victory at Wakefield High (National), 8-0, last Thursday night. (See Centreville High Sports Notebook for details of the Wakefield game.)