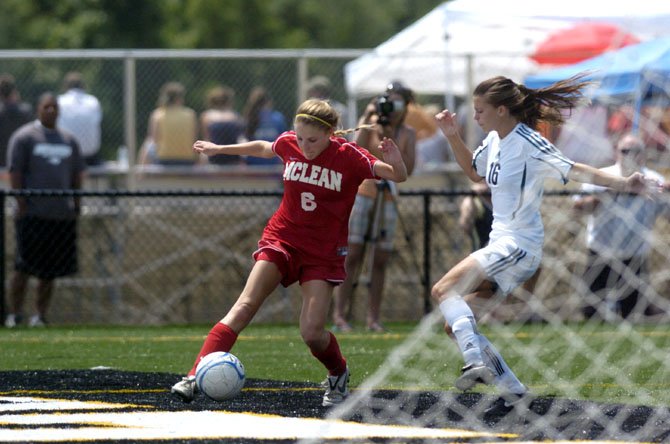 Centreville — The Centreville High girls' soccer team, following a breakthrough 2011 season a year ago which saw the Wildcats go 13-3 and advance all the way to the Northern Region tournament semifinals before their season ended with a Final Four loss to eventual state champion McLean, is off to a solid start this spring.
Centreville, after beginning the season with a 2-0 road loss at W.T. Woodson High (Patriot District) on March 13 and then playing visiting Yorktown High (National District) to a 1-1 tie two days later, is currently on an impressive four-game win streak with the victories coming over visiting T.C. Williams (Patriot), 5-0, on March 19; at West Springfield (Patriot), 1-0, on March 23; a 2-1 triumph on March 27 over guest McLean (Liberty District), the same Highlanders' squad which ended the Wildcats' hopes of qualifying for the state AAA playoffs last year; and a decisive victory at Wakefield High (National), 8-0, last Thursday night. (See Centreville High Sports Notebook for details of the Wakefield game.)
Centreville, which had no games scheduled over this week's spring break, opens up its Concorde District schedule with a game at local rival Westfield High next Tuesday, April 10 at 7 p.m. The Wildcats' next home match is set for Monday night, April 16 versus Oakton High at 7.
"I'm very happy with my group," said Centreville head coach Gary Malebranche, of the positive attributes he has seen from his squad over the first half of the season.
Of the win over McLean, the defending state champs, Malebranche indicated the victory spoke volumes of his team.
"We haven't been completely healthy yet, so the McLean win was a nice team win against a good opponent," he said. "The key was just [Centreville's] toughness and unselfishness [play] throughout the 90 minutes."
TWO CENTREVILLE PLAYERS putting together particularly strong seasons thus far are Alexandra Myers, a junior defender/midfielder, and Lindsey Egbers, also a junior back/middie.
Myers scored a pair of goals in the win over T.C. Williams. Other goals for the Wildcats in that win over the Titans' team from Alexandria came from Egbers, freshman midfielder/forward Bela Muzo, and sophomore midfielder/forward Jenna Green. Assists in that game came from Green, versatile junior player Haley Yow, and sophomore midfield/forward Madi Simons.
Simons had her team's lone score, off an assist from Green, in the win over West Springfield.
And in the triumph over McLean, which at last year's region semifinals had held off a rousing, second half comeback try by Centreville in the game played at Madison High School, the Wildcats got scores from both Yow and Myers. The latter player also had an assist.
Back in the earlier season 1-1 tie against Yorktown on March 15, Centreville's lone goal came from junior Clara Logsdon, off an assist from Green.
While a four-game win streak is certainly a good momentum builder going into next week's startup of district play, coach Malebranche and his team realize the opponents will be a notch better in the always-difficult Concorde. Even so, the coach believes he has a pretty talented team that can more than hold its own in the six-team district.
"We are definitely capable of winning the district," said Malebranche.