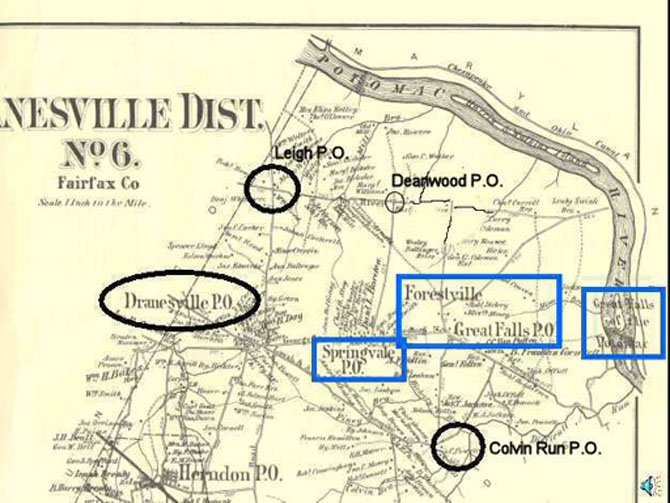 1879 Map of Great Falls Post Offices: This 1879 map shows the location of the several post offices that have served what is now the Great Falls area. Only the Dranesville Post Office, Springvale Post Office, and the Great Falls Post Office for Forestville were in existence when this map was drawn. The Matildaville Post Office in the Great Falls Park area (blue rectangle at the far right) had only been in service from 1828 to 1830. The Leigh Post Office, Deanwood Post Office, and Colvin Run Post Office were yet to come. The post office serving the crossroads community known as Forestville had been given the name Great Falls to avoid being confused with another Virginia post office already named Forestville.

Stories this photo appears in:

The Great Falls Historical Society will present "A Photographic Tour of Old Great Falls" as narrated by Kathleen Murphy, GFHS President, on Wednesday, April 25, at 7 p.m. at the Great Falls Library Meeting Room, 9830 Georgetown Pike.