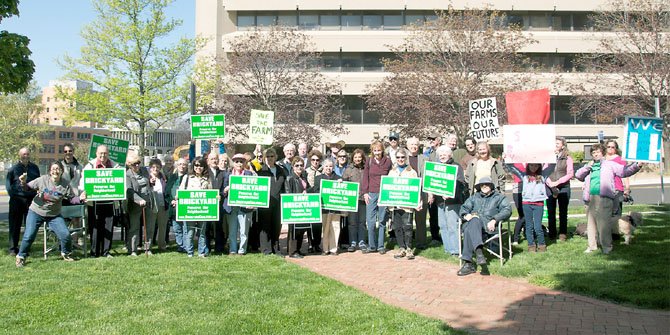 About 40 members of the Brickyard Coalition last week delivered a petition containing more than 750 signatures opposing the county decision to lease 20 acres on Brickyard Road to Montgomery Soccer Inc. for soccer fields. The site is officially a future school site and has been leased to organic farmer Nick Maravell for the last 20 years.
Stories this photo appears in:

I went with a group of concerned citizens to file a petition today [April 13] in opposition to the County Executive's secret agreement with Montgomery Soccer Inc. (MSI) to construct and operate soccer fields on the Brickyard School public property. When we reached Ike Leggett's office, the doors were locked and a guard was stationed at the door. We were told these doors are always locked, which is not true. We've been there before when the doors were not locked.