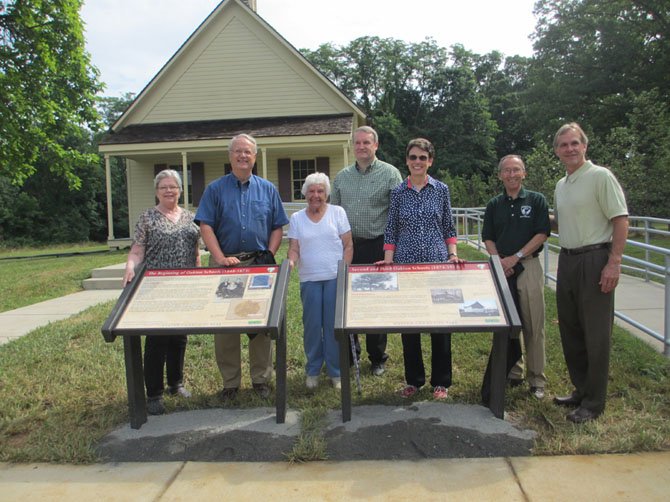 County Park Authority preservation specialist Karen Lindquist, HMDL historian Charles Balch, great-granddaughter of first schoolhouse teacher Pat Price, HMDL historian Steve Hull, Providence District Supervisor Linda Q. Smyth, County Park Authority Board Providence District Representative Ken Quincy, and County Park Authority Director John Dargle, Jr. unveil interpretive panel markers at the Oakton Schoolhouse.
Stories this photo appears in:

Cooperative effort between Hunter Mill Defense League and County produces interpretive panels.
In 2007, a group of Oakton-area community supporters, along with Chevy Chase Bank and the owners of Appalachian Outfitters, saved the historic Oakton schoolhouse from demolition. With funding from Chevy Chase, the building that once stood on the corner of Hunter Mill Road and Rt. 123 was moved to its current location on Hunter Mill Road, just a few hundred yards from where it originally stood.