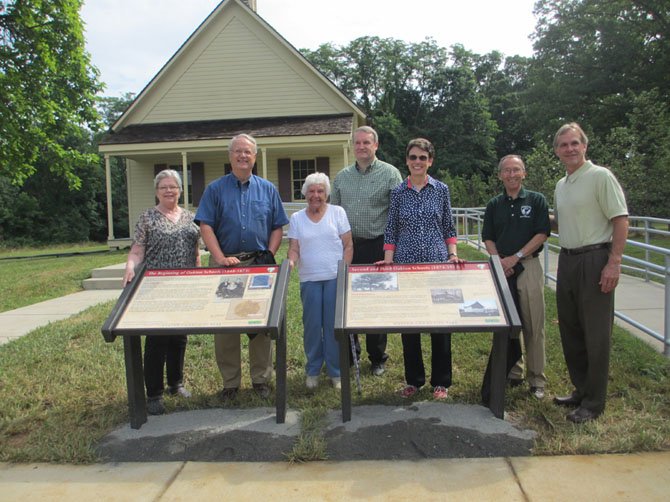 In 2007, a group of Oakton-area community supporters, along with Chevy Chase Bank and the owners of Appalachian Outfitters, saved the historic Oakton schoolhouse from demolition. With funding from Chevy Chase, the building that once stood on the corner of Hunter Mill Road and Rt. 123 was moved to its current location on Hunter Mill Road, just a few hundred yards from where it originally stood.
Now a Fairfax County Park Authority preservation site, the Oakton Schoolhouse abuts a Fairfax County field. The building and field make up the Oakton Community Park.
On July 14, the park authority, in concert with the Hunter Mill Defense League [HMDL] who researched the history, dedicated two large interpretive marker panels at the site.
"The signs will be here forever and ever," said HMDL researcher Charles Balch, after commenting on the background work that went into the effort.
Providence District Representative of the Fairfax County Park Authority Board Ken Quincy, Providence District Supervisor Linda Q. Smyth and Hunter Mill Defense League historian Charles Balch remarked on the history and future of the Oakton Schoolhouse. The vision for the schoolhouse is to open it up to the community.
The HMDL researched and funded the panels. Quincy called Charles Balch and Steve Hull of the HMDL the "cornerstones of this effort."
Speakers recognized Pat Price of Oakton, great-granddaughter of the first teacher of Oakton's first schoolhouse, then called Flint HIll School, after the area that Oakton was then known as.
Mary Holland Bell [Snyder] became Flint Hill School's first teacher in 1851. At that time, it was not legal to teach blacks to read or write. Bell was, Balch said, "before her time." She defied the law to teach a young black boy who waited on the steps of the school every day.
Price lives not far from the schoolhouse where her great-grandmother taught. Snyder is buried in Flint Hill Cemetery.
The marker panels describe the evolution of the three schools that were identified as Flint Hill and Oakton schools. The extant structure opened about 1873, serving as a schoolhouse until about 1913. As the building was outgrown, it served as a general store, eventually becoming Appalachian Outfitters. When the building was sold to Chevy Chase Bank, the bank agreed to pay for relocation and renovation.
Quincy announced that the schoolhouse is to be repainted in August.
Supervisor Smyth, who championed the preservation, recalled the cold January day when the Oakton community came out to watch the move from its previous location to its new home. She credited the HMDL for its dedication to preserving the past and the tranquility of the Hunter Mill corridor. "Thank you for all you do to raise awareness and preserve the history," Smyth said.