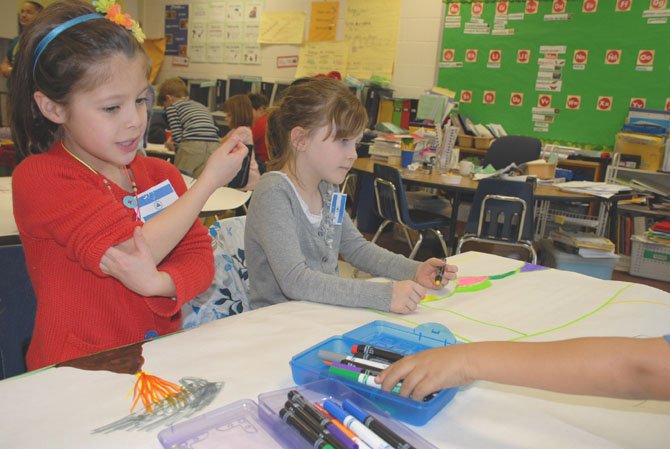 During a class party to celebrate Bachelet's return from Nicaragua, Raquel Davis (left) drew a picture of a volcano like the twin volcanoes on Ometepe Island in Nicaragua where Bachelet traveled to in February. Grace Morgan, seated next to Davis, said that the bird she was assigned was the northern parula warbler.
Stories this photo appears in:

Lake Anne teacher's trip to Nicaragua makes learning "real."
Iconic birds, such as the ruby throated hummingbird, birds that bear the names of our cities, like the Baltimore oriole, and birds that are thought of as uniquely North American birds, such as numerous wrens and warblers, plus more than 150 other varieties of birds travel hundreds of miles every year to spend the winter on an island in Lake Nicaragua. From September to March these birds make their home in the tropical forests of Ometepe Island. In the spring they return to eastern United States to find mates and raise their young.