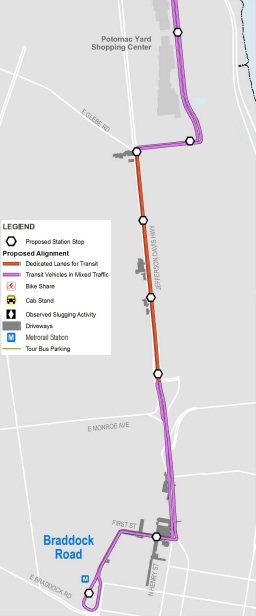 The Crystal City Potomac Yard Transit Corridor stretches from Four Mile Run to the Braddock Road Metro station.
Stories this photo appears in:

Street car to move forward in Arlington; its future is uncertain in Alexandria.
Some say time heals all wounds. For leaders in Arlington and Alexandria, it may also be the solution to a disagreement about how to move forward with a regional transit system.

Is a treaty of Four Mile Run in the works to iron out differences between neighboring jurisdictions?
Back in October 2010, Northern Virginia Streetcar Coalition chairman Tim Lovain feared what he called a "disaster" on the horizon — transit corridor commuters may be facing a day when they would have to get off an Arlington streetcar and board an Alexandria bus.