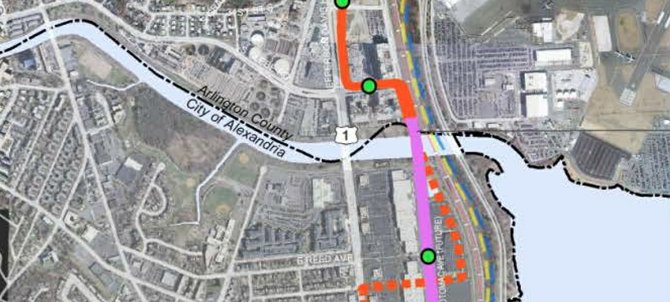 Some say time heals all wounds. For leaders in Arlington and Alexandria, it may also be the solution to a disagreement about how to move forward with a regional transit system.
Last year, Arlington and Alexandria entered into an agreement to study converting a bus-rapid transit line stretching from Crystal City into Potomac Yard into a streetcar system. But when Arlington decided against participating in an alternatives analysis to get federal funding last month, Alexandria officials had to come up with a new strategy. Last weekend, members of the Arlington County Board and the Alexandria City Council approved a new agreement - delaying the alternatives analysis until the location of the new Potomac Yard Metro station has been determined.
"It was unfortunate that somehow, through staff-to-staff working dialogues that we got off track a little bit in terms of communication," said Alexandria Mayor Bill Euille during Saturday's public hearing. "But that was easily resolved when we went to have a meeting with them, and now we are back on track."
Under terms of the new agreement, Alexandria will wait until 2014 when the environmental impact process has been completed and the status of the new Metro station is known. At that time, Alexandria officials will begin an alternatives analysis to apply to the federal government for funding. Meanwhile, Arlington plans to have the new streetcar system up and running by 2019. If Alexandria decides to join the Arlington streetcar system, city officials estimate, the upgrade would happen about two years later.
"This is a terrific place to end up, and it shows how well we work together even if some people want to suggest we don't," said Arlington County Board member Jay Fisette during Saturday's regular meeting. "We work very well together. It's just that we're on some different timelines."
ALTHOUGH THE ARLINGTON County Board unanimously approved the agreement and most of the members of the Alexandria City Council approved it, Councilman Alicia Hughes voted against it. When Arlington decided against moving forward with the optional alternatives analysis, Hughes accused the Arlington County Board of acting "in bad faith." Now, she says, moving forward with the amended agreement would be a mistake because it could become a financial burden on the city.
"To make a determination of whether we need to expend resources on a project that is going to cost $100 million per mile to put a streetcar down without having a very firm conversation about it," said Hughes, "that's not something I can realistically support."
Alexandria has already created a special tax district for Potomac Yard to help fund the new Metro station at Potomac Yard, which is estimated to cost about $210 million. As a result, Alexandria does not have the same ability to forgo the alternatives analysis because that could potentially imperil tens of millions of dollars of in federal funding. Arlington County Board Chairwoman Mary Hynes said that the previous agreement between the two jurisdictions included an option for the two to share the cost of the alternatives analysis, which the county decided against.
"It was an option. It was always an option," said Arlington County Board Chairwoman Mary Hynes. "And we all knew that we were going to have to kind of pause at a point in time and look at the question again, and that's really where we are."
SINCE 2011, the two neighboring jurisdictions have been working together to document the impact of converting the bus-rapid transit corridor into a streetcar system. Critics point to potential logistical problems such as the location of a car barn and where the electrical substations would be located. They also have raised questions about Alexandria potentially having problems getting federal money in the future to connect to an existing system that did not have to meet all the requirements of the Federal Transit Administration. Then there's the issue of how fares will be collected between the streetcar and bus system.
"There are many, many questions that deserve to be answered," said Robert Atkins during the Arlington hearing last weekend. "Please do so, and if not at least come up with some credible excuses."
Under the new approach, Arlington County will proceed directly to the environmental assessment study of the Arlington segment of the streetcar project. Meanwhile, the City of Alexandria will focus on completing the Potomac Yard Metrorail Station Environmental Impact Statement study. When that's completed, city officials could initiate studies of potentially converting the bus system to a streetcar. This new approach allows the Alexandria segment of the streetcar project to be studied after the city knows the location of the new Potomac Yard Metro station.
"There's some irony in this process," said Jinks. "A smaller amount of money connecting a two-rail system comes very high on the priority ranking - it's a competitive process to get Small Starts and New Starts funding - and so it actually may enhance our chances of getting federal funding."
CRITICS OF STREETCARS say the system is costly and may be repetitive. Alexandria City Councilman Frank Fannon has indicated he may be unwilling to support conversion to a streetcar system, especially considering the financial spot the city will be in after borrowing vast amounts of money to construct the new Metro station. During Saturday's public hearing on the issue, Fannon suggested that adding a streetcar system would be overkill.
"We are going to have the BRT line out there to get through Potomac Yard. You can drive your car, you can take a taxi, you can bike, you can walk, you can take the Metro - so that's already six modes of transportation," said Councilman Frank Fannon. "Do we really need a seventh mode of transportation?"
"There may be a tenth option out there. We don't know," responded Euille. "In the end, we may not do the streetcar."