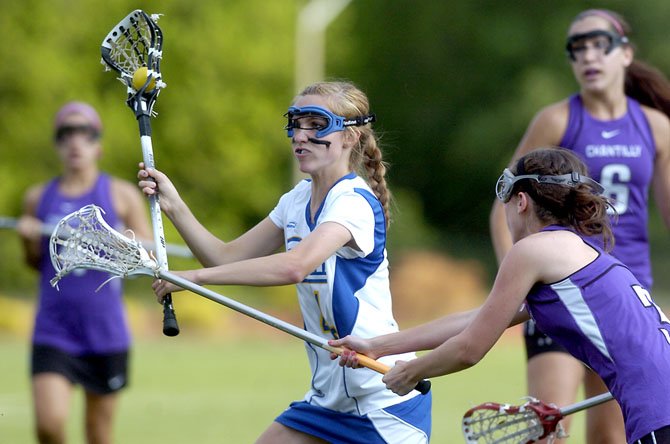 Robinson's Maggie Hyland protects the ball from a Chantilly defender. The sophomore was one of three Rams players to score five goals in last Friday's playoff win over the Chargers.
Stories this photo appears in:

Rams win Concorde playoff opener over Chantilly Chargers.
Both teams showcased their scoring prowess last Friday evening, May 4 when Robinson and Chantilly met in a first round Concorde District girls' lacrosse playoff contest at Robinson Secondary. With a Northern Region playoff seeding on the line and a chance to advance to the district semifinals, both teams played with passion and determination. For the winner, it would be the first game of what could be an extended postseason. For the losing team, it would mark the end of the season. In the end, Robinson, the six-team district tournament's No. 4 seed, held off a ferocious late game Chantilly rally and defeated the Chargers, 19-16.