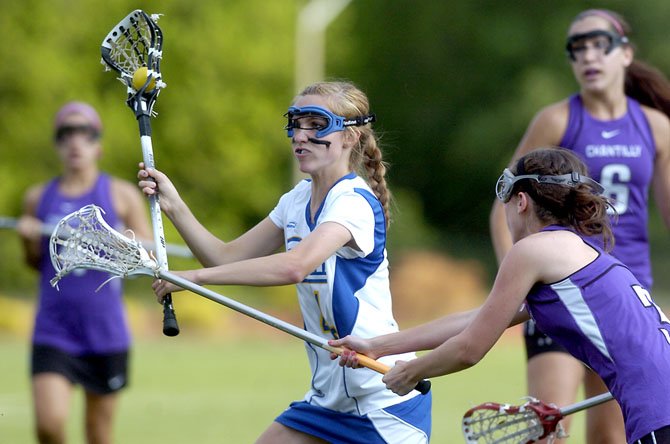 Both teams showcased their scoring prowess last Friday evening, May 4 when Robinson and Chantilly met in a first round Concorde District girls' lacrosse playoff contest at Robinson Secondary.
With a Northern Region playoff seeding on the line and a chance to advance to the district semifinals, both teams played with passion and determination. For the winner, it would be the first game of what could be an extended postseason. For the losing team, it would mark the end of the season.
In the end, Robinson, the six-team district tournament's No. 4 seed, held off a ferocious late game Chantilly rally and defeated the Chargers, 19-16.
Robinson, with the win, advanced to a district semifinals meeting versus top seed Centreville earlier this week on Tuesday, May 8. There, the Rams lost to the powerful Wildcats. Robinson will next set its focus on next week's 16-team regional tournament. Centreville, meanwhile, will play in the district finals 5:30 this Friday evening, May 11at Chantilly High School.
"Friday's win over Chantilly was a nice victory and well played game by our talented group of student athletes on the Ram's team," said Robinson coach Liz Case. "The ability to play well together showed against Chantilly. We played a clean defensive game without any yellow cards and everyone played."
In the quarterfinals game, the action was fast-paced from start to finish as both Robinson and Chantilly continually moved the ball up and down the field. Over and over again, it seemed, both the Rams and Chargers were making strong moves to their opponents' net and getting off good scoring chances.
Both starting goalies, senior Elizabeth Graviano for Chantilly and junior Lauren Rauch for Robinson, made several nifty saves in the net throughout the game's 50 minutes. But the sustained pressure offensively by both teams was constant and there was only so much either net-minder could do to stop the scoring flow.
Robinson received an outstanding balanced attack as three players - senior attack Shannon Picard, sophomore midfielder/attack Maggie Hyland, and senior middie/attack Katie McHugh - each scored five goals. Senior midfielder Campbell Collier added three and junior midfielder Megan Barlow scored as well.
"Our attack, with Katie McHugh, Shannon Picard, and Maggie Hyland, has really started to connect with each other," said Case.
For Chantilly, sophomore attack wing Bridget Cleary and senior center Kylie Chaplin both notched four scores. Also for the Chargers, freshman Megan Birnie scored three times; senior attack Shannon Strittmatter and sophomore attack Brooke Fitzgerald both found the net twice; and junior Christina Gonzalez scored once.
CHANTILLY'S Gonzalez sent a sizzling ball high into the right side of the net from close range to open the game's scoring less than two minutes into the start of play. Robinson's Hyland, off a pass from junior Catina Boster, countered with a close range chance just over a minute later to tie the score.
The two teams would continue to trade goals over the first 16 minutes of the first half. McHugh, a team tri-captain for the Rams, broke a 6-6 tie with a 10-yard score from straight range with 8 minutes, 46 seconds remaining in the half.
As it turned out, Robinson would never lose the lead thereafter. Collier, another tri-captain for Robinson, scored less than 30 seconds after McHugh's tally off a picturesque, 14-yard sidearm shot from the right wing area while moving left to right across the goal to give the Rams an 8-6 advantage.
Chantilly's Cleary scored just over a minute later to get the Chargers within 8-7. Over the final seven-plus minutes of the half, however, the Rams would score four times to Chantilly's none. The Robinson goals during that stretch came from Picard on a driving, 12-yard bounce shot in traffic from the right wing; Collier, with 90 seconds remaining; Barlow, on a catch and shoot from eight yards out, off an assist from behind the net by Hyland at the 30 second mark; and Hyland from close range while moving across the goal area with seven seconds showing.
The Rams, over the first half's final nine minutes, outscored the Chargers six to one and carried a 12-7 advantage into the half.
Robinson's lead ultimately reached eight - at 16-8 - following a score from McHugh nearly six minutes into the second half.
Chantilly answered with four straight scores, two of those coming from freshman Birnie, to get within 16-12. The Rams then scored three straight to make it 19-12 with less than 10 seconds remaining.
Again, the Chargers showed no quit in their game as they responded with the final four scores of the night, the last one coming with 3:32 remaining on a catch and shoot close range shot by Birnie to make it 19-16.
Coach Case was pleased with her team's play across the board against Chantilly.
"We started the game off strong winning draw controls that are crucial in gaining possession of the ball," she said. "We have great ball handlers on the circle in our midfield with Campbell Collier, Megan Barlow, Kate Moody, and Sara Jones ready to get the ball. The other key points are our defense with Devon Schircliff, Sarah Koucheravy, Jessica Bond, Sarah Hylton, Lauren Rauch."
It all added up to a confidence-building playoff win for the Rams.