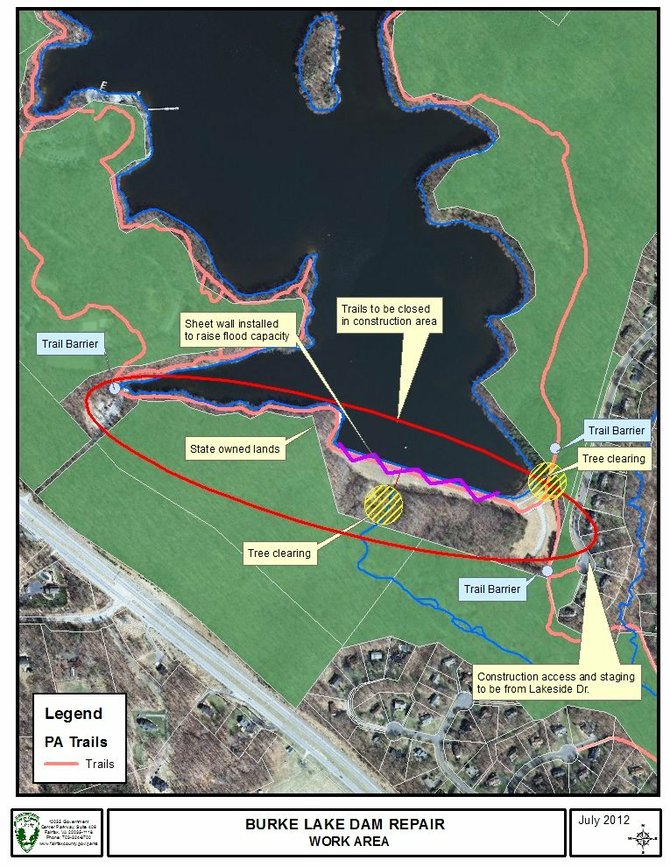 The park authority is estimating that it will take 90-120 days to complete the project. During that time, signs will be erected throughout the park alerting users of the trail to the temporary change. The map shows the three points along the trail that will be affected by the dam repair. Take a look at the map and plan your walks along the trail keeping in mind that a full loop will not be possible while the dam is being repaired.

Stories this photo appears in:
South Run residents want unofficial park entryway shut down permanently.
Chris Amans and his wife, Brenda Riffe, have lived in the leafy neighborhood of South Run in Fairfax Station since the community was developed in the mid-1980s. Bordered by Lee Chapel Road, Route 123, and the Fairfax County Parkway, many of the community's 500 homes, which sell for close to $1 million, back up to Burke Lake Park. While they love the neighborhood's mature trees, expansive 1/2-acre lots and access to Burke Lake Park, they have never been happy with the fact that their Laketree Drive cul-de-sac has become an unofficial entrance to the popular Burke Lake trails.