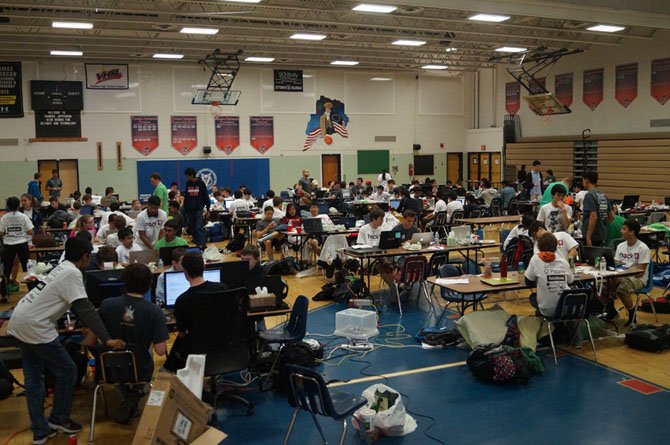 The TJ Hackathon took place in the TJHSST gymnasium April 26-27. Teams of students came together for a 24-hour marathon of computer coding and programming to create products which they would reveal in demos to the other participants and mentors from companies such as Facebook and Palantir.

Stories this photo appears in:

Area high schoolers impress instructors at the 24-hour computer programming marathon.
When a voice over the loudspeaker announced, "free swag outside," a stampede of teenagers cleared out the Thomas Jefferson High School (TJHSST) gymnasium in less than a minute. Even after almost 20 hours of coding and programming, the students were at no loss for enthusiasm, especially for free paraphernalia decorated with the TJ Hackathon logo. Kim Holton, a volunteer whose son was participating in the hackathon, said, "They all seem really tired and they're dragging, but they're excited."