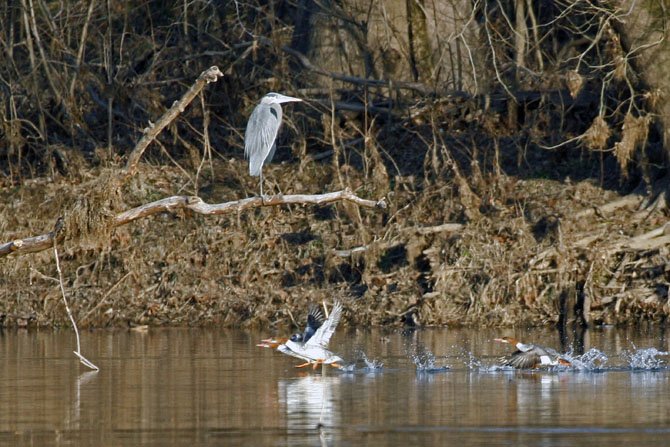 This image was taken in winter as many birds would perch along the Maryland side of the river to capture the warmth from the late afternoon sun. I found this shot to be amusing as the great blue heron could care less about the mergansers as they are madly running on the water trying to get airborne and he seems just interested in soaking up the remaining warmth from the sun.

Stories this photo appears in:

Whether a newcomer or an "oldcomer" like me, I urge everyone to explore Riverbend Park and the Potomac as it flows by Great Falls.
For the past several years I have been photographing the landscapes, landmarks and wildlife of this place we call Great Falls. During this period I have been to Riverbend Park numerous times with my camera, but in May 2012 I noticed a sign near the boat rental area that listed the rates for each type of craft such as canoes, kayaks and aluminum flat-bottomed jon boats.