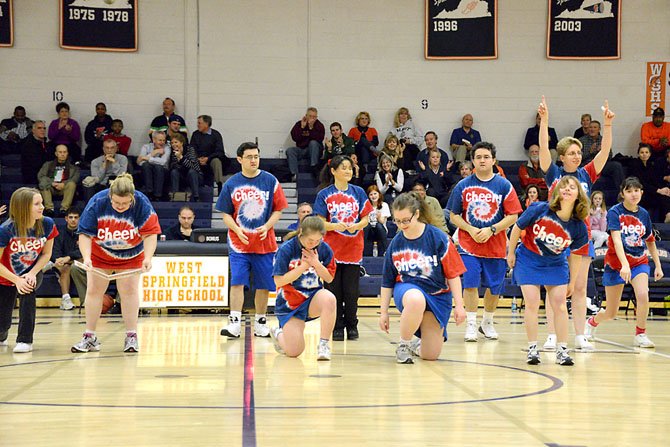 The Northern Virginia Special Olympics cheerleading team performed for the first time on Friday, Jan. 11, during halftime of the girls' basketball game at WSHS. The crowd cheered and clapped along with the team. (Front row, from left) Jill Arnott, Ginger Fischer and Jacquelyn Hoffmeier; Back Row: Heather Savage, David Vonack, assistant coach Keiko Vonack, Brian Vonack and Samantha Cully.

Stories this photo appears in:

Special Olympics "Cheer Team" wows crowd with high-energy performance.
Like many girls, Jacquelyn Hoffmeier of Burke always wanted to be a cheerleader. The 25-year-old, born with Down Syndrome, finally got her chance to perform on Friday, Jan. 11. Hoffmeier, along with seven of her Special Olympics teammates, cheered and danced before a crowd of nearly 200 parents and students during halftime at the West Springfield High School girls' basketball game.