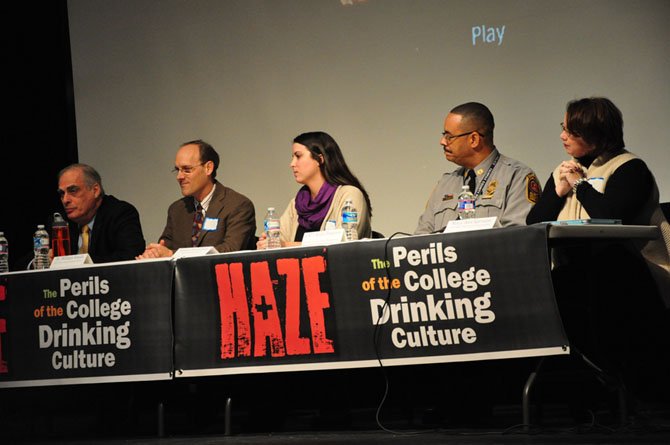 From left, Jeff Levy, commissioner of the Fairfax County Oversight Committee on Drinking and Driving, William Hauda, an emergency room physician at INOVA Fairfax, Samara Kimmelman, a George Mason University graduate student, Capt. Bruce Ferguson, commander of Fairfax County Police Department's Youth Services Division, and Mary Ann Sprouse, director of Drug, Alcohol and Health Education at George Mason, were part of a presentation on underage drinking at McLean High School Thursday, Jan. 17
Stories this photo appears in:

McLean High School hosts first 'Perils of College Drinking Culture' presentation of year.
Exploring Perils of Drinking Culture:The Jan. 17 program at McLean High kicks off the latest series of "The Perils of College Drinking Culture" in the area. The program will also be held: * Thursday, May 16, at Westfield High School in Chantilly. * Wednesday, May 22, and Wednesday, July 31, at the Annandale Campus of Northern Virginia Community College. The program will be at the Ernst Community Cultural Center, 8333 Little River Turnpike, Annandale, Va. All events will be from 7 to 9 p.m., and admission is free. More information can be found at www.unifiedpreventioncoalition.org.