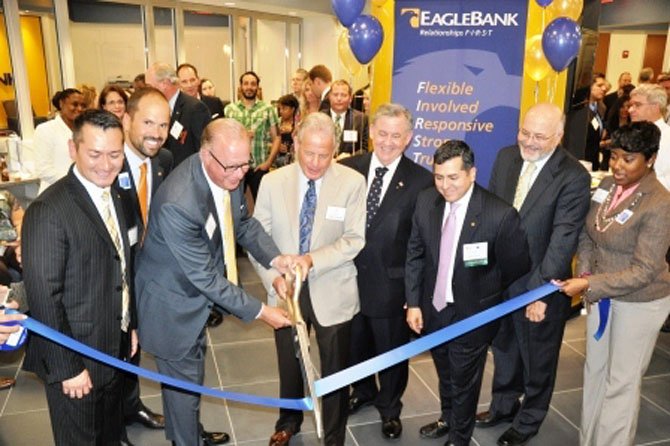 EagleBank celebrated the opening of its newest branch in Old Town with a ribbon cutting ceremony June 19. From left: EagleBank area manager Juan Jara; head of retail operations Joe Clarke; Eagle Bank CEO Ron Paul; vice chairman Bob Pincus; Alexandria Chamber of Commerce chair John Renner; EagleBank branch manager Ed Velarde; Chamber of Commerce CEO John Long, and branch assistant Portia Reid.
Stories this photo appears in:

Newest branch opens at 277 S. Washington St.
More than 175 people from the Alexandria Chamber of Commerce and local business community joined EagleBank in celebrating the official opening of its latest branch with a ribbon cutting ceremony and reception on June 19 at the bank's facility in Old Town. "It's great to be back in Alexandria," said EagleBank vice president and branch manager Ed Velarde, who returns to the area following 15 years of commercial banking experience with J.P. Morgan in New York.