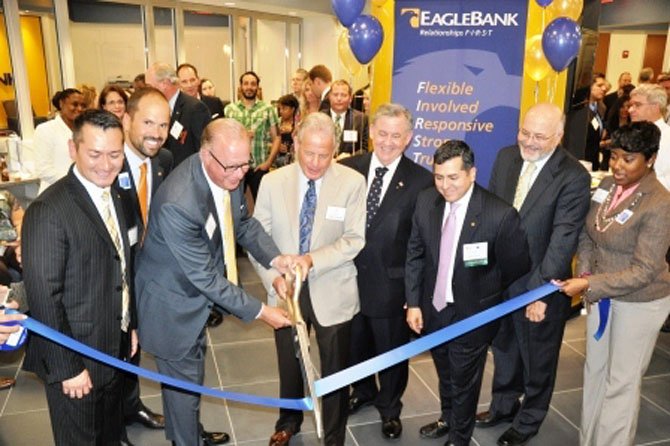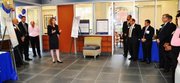 Alexandria — More than 175 people from the Alexandria Chamber of Commerce and local business community joined EagleBank in celebrating the official opening of its latest branch with a ribbon cutting ceremony and reception on June 19 at the bank's facility in Old Town.
"It's great to be back in Alexandria," said EagleBank vice president and branch manager Ed Velarde, who returns to the area following 15 years of commercial banking experience with J.P. Morgan in New York.
The branch is located in The Atrium Building at 277 S. Washington St. The full-service facility marks EagleBank's 18th location in the D.C. area and sixth Northern Virginia location.
"This new location will allow us to offer more convenience for current customers who live and/or do business in Virginia," said Thomas Murphy, president of Community Banking for EagleBank. "It will also provide an opportunity for the many important associations headquartered here to gain access to our experienced Nonprofit Banking Division. We have been serving D.C.-area nonprofits for nearly 15 years and know and understand their very specific financial needs."
Existing Virginia branches are in Tysons Corner, Ballston, Rosslyn, Reston and Merrifield. The Old Town branch offers safe deposit boxes, an ATM, a night drop and a full array of lending, cash management and online banking services for both business and retail customers.
"As a resident, I used to frequent businesses and enjoy all the fun stuff Alexandria has to offer," Velarde said. "Now that I am on the business side, I can take that to the next level and build on everything. That's very exciting to me."
Velarde said that EagleBank and the entrepreneurial spirit of its founders is a good fit for the Alexandria business community.
"Eagle is a wonderful fit here," Velarde said. "The culture in Alexandria is all about relationships and looking at things in a long-term time frame. It's very refreshing in that sense."
Velarde noted that EagleBank is the number one SBA lender in community banking in the D.C. region and prides itself on personal relationships.
"Most of our clients are based on referrals," said Velarde, who noted that EagleBank is a SBA preferred lender. "The way we do business is all relationship driven — we put the relationship component ahead of everything. Our mantra is about being strong and trusted."
For more information, visit www.eaglebankcorp.com.
More like this story