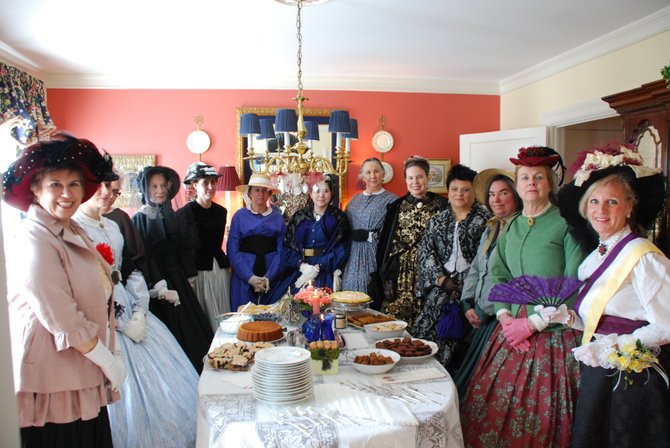 Historic company celebrating Women's History Month are (clockwise from left) "Alice Roosevelt Longworth" (Elaine Flynn), "Confederate Spy Laura Ratcliffe" (Amy Beechler), "Freida Fromm-Reichmann" (Karen Webber Gilat), "Widow Mary Todd Lincoln" (Phyllis Verhalen), "Cornelia MacDonald [wife of Confederate Colonel Angus MacDonald III, Winchester, Va.]" (Beverly Pelcher), "Anonymous Civil War Woman" (Sandy Michel), "Capt. Sally Thomkins" (Rosemary Thoburn), "Clarrika Dale Fleming" (Karen Lyddane), "Clara Barton" (Jenee B. Lindner), "Harriett Brice—Freed Woman of Color" (Marion Dobbins), "Mrs. Silas Burke aka, Hannah Coffer Burke" (Cindy Bennett), "Capt. Sally Louisa Thomkins" (Margaret Rowe) and "Suffragist Mrs. Robert 'Mimi' Walker" (Lynne Garvey-Hodge).
Stories this photo appears in:

Fairfax County History Commissioner Lynne Garvey-Hodge hosted former first ladies, Civil War wives and a Native American princess.
Amid a historically accurate buffet of fried cod balls, "Election Day" cake and biscuits and ham with zucchini relish, there stood a true culinary symbol of the afternoon: purple and pale gold-layered gelatin desserts served in stately glassware with a blackberry garnish.