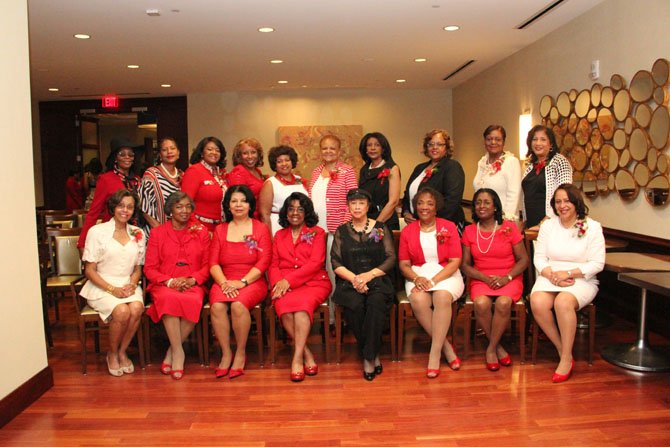 From left, charter members (back row): Adrienne Moore, Lorene Walton, Princess Powell-McEvilley, Juan Peterson, Benita Toler, Janice Scott, Mary Ann Bosley, Shelia Edwards, Robin Flannagan, Sharon Bundy. Front: Linda Kemp, Opal Cotton, Darlene Faltz, S. Yvonne McCall, Peggy Smoot, Joyce Green, Gwendolyn Patton, Regina Milteer-Rock.
Stories this photo appears in:

The sisters of the Fairfax County Alumnae Chapter (FCAC) of Delta Sigma Theta Sorority, Inc. celebrated its 20th anniversary by hosting a Red Shoe Jazz Luncheon at the Hyatt Dulles in Herndon on May 18, with more than 400 guests in attendance. Among the honored guests were members of the Divine Nine, local and out of state dignitaries, and scholarship recipients. Fourteen vendors were spread throughout the reception area to provide attendees with selections of jewelry, clothing, art and Greek paraphernalia. The soulful trio Travelers Band provided live entertainment.