The sisters of the Fairfax County Alumnae Chapter (FCAC) of Delta Sigma Theta Sorority, Inc. celebrated its 20th anniversary by hosting a Red Shoe Jazz Luncheon at the Hyatt Dulles in Herndon on May 18, with more than 400 guests in attendance. Among the honored guests were members of the Divine Nine, local and out of state dignitaries, and scholarship recipients.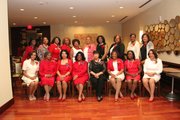 Fourteen vendors were spread throughout the reception area to provide attendees with selections of jewelry, clothing, art and Greek paraphernalia. The soulful trio Travelers Band provided live entertainment.
The guest speaker, Margot James Copeland, a member of the Delta Foundation and the pational president of The Links, Inc. gave an uplifting speech about her trip to Ghana and her visit to the castles that once held our ancestors who took the voyage of no return.
Regina Milteer-Rock, president of FCAC, said, "The Fairfax County Alumnae Chapter of Delta Sigma Theta Sorority has made an impact on the Northern Virginia community and the global community over the past 20 years in the areas of health, economic development, education, social action and international awareness. We plan to continue our community service projects for decades to come."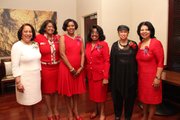 The celebration continued with FCAC recognizing some of its own with three Delta Dears being honored with their 50-year plaques; the presentations of the 2013-2014 Delta of the Year Award and the Program and Planning Community Service Award.
The music and speeches made for a joyful occasion but the highlight of the celebration was the awarding of $20,000 in scholarship money to seven deserving young ladies. Over its 20 year history the FCAC has awarded $250,000 in scholarships to deserving female students from the Fairfax County and surrounding Northern Virginia areas. Among the colleges and universities the scholarship recipients plan to attend are Johns Hopkins, George Mason, Spelman, Virginia Tech and New York University.