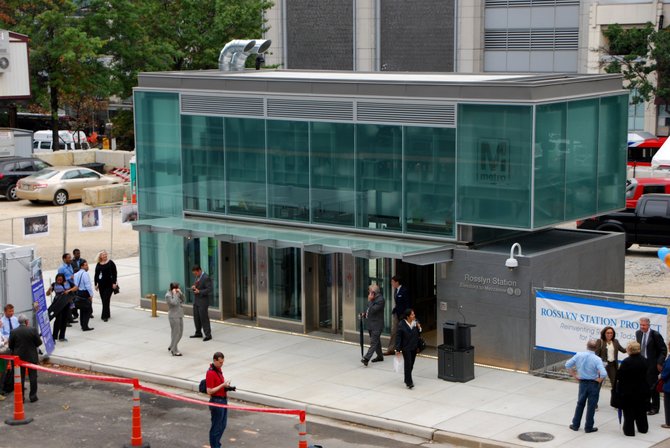 County officials staged a ceremony to celebrate the opening of improvements to the Rosslyn Metro station Monday.
Stories this photo appears in:

$50 million project was delayed by global financial crisis.
The high-speed elevators and new mezzanine at the Rosslyn Metro station were six years in the planning, a process that was delayed when developer JBG Properties was unable to move forward with a development that was supposed to be constructed concurrently. But when the global financial crisis dried up funding for the development, Arlington leaders decided to press forward anyway. Now commuters at one of Virginia's highest ridership stations in the system have three new high-speed, high-capacity elevators, a new fare mezzanine, a separate set of gates, a separate manned kiosk and a new emergency stairwell. "This project has a huge life-safety benefit, not only for the 36,000 people who use the station today everyone on the Orange Line and Blue Line and future Silver Line in that it enables us to get emergency response teams down into the station," said Dennis Leach, deputy director of Transportation and Development. "It also allows for an orderly evacuation in the event of an emergency either in the station itself or in the tunnel under the river."