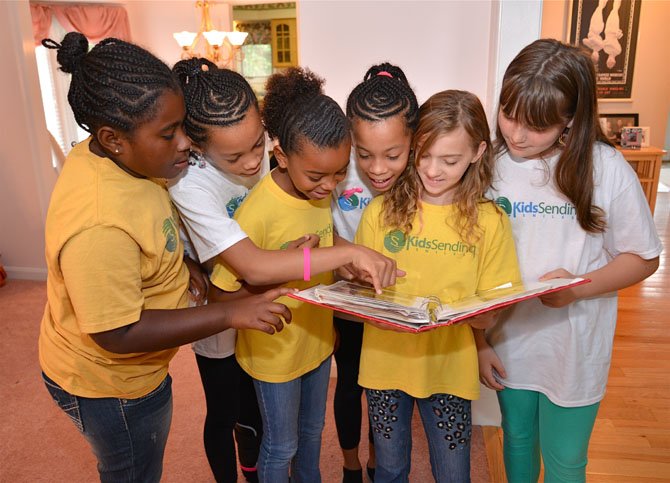 Founding members of Kids Sending Smiles do a little reminiscing as they look over the scrapbook of their non-profit's activities. From left: Laila Tucker, 9, Island Creek Elementary, Adaya Beatrd, 10, Lorton Station Elementary, Tatiana Joseph, 10, Lane Elementary, Alliyah Beard, 11, Lorton Station, Samantha Underwood, 10, Springfield Estates Elementary, Samantha Wenger, 10, Island Creek.
Stories this photo appears in:
Youth non-profit to hold 5K Run/Walk for Breast Cancer at Burke Lake Park.
The Court of the 2013 Lee District Lady Fairfax was in session, but there were no royal activities underway. Instead, 11-year-old Samantha Underwood and her friends were busy reminiscing about past events and planning future ones for Kids Sending Smiles (KSS)—the charitable organization they established when a friend of Philippine ancestry told Samantha about the conditions and the poverty, especially among young girls, in the native country of her family.