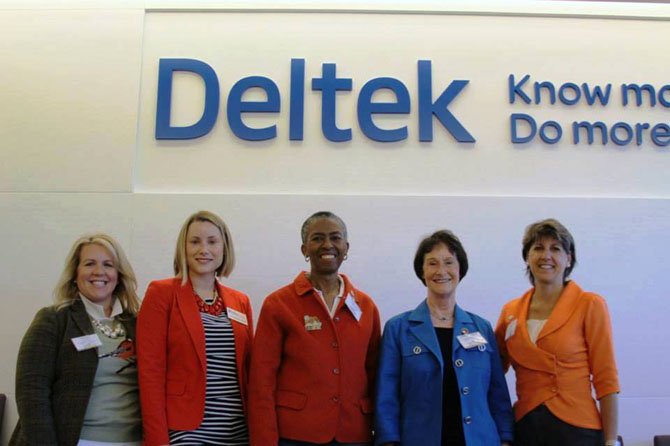 Deltek, Inc., the Herndon-based global software and information solutions company, kicked off the third annual Jeans Day in Fairfax County by hosting a fundraising breakfast. Attending the event were (from left) KayAnn Schoeneman, vice president of communications, Fairfax Chamber; Katharine Ryan, vice president of business development and operations, Fairfax Chamber; Fairfax County Supervisor Cathy Hudgins (D-Hunter Mill); Fairfax County Board of Supervisors Chairman Sharon Bulova (D-at-large), and Kathy Albarado, CEO of Helios HR in Reston.
Stories this photo appears in:

Deltek hosts "challenge breakfast" to turn $5 into $25,000.
Casual Friday got a twist on Friday, Oct. 18, as thousands of employees throughout Fairfax County became denim do-gooders by throwing on a pair of jeans to help prevent and end homelessness. Deltek, Inc., the Herndon-based global software and information solutions company, kicked off the third annual Jeans Day in Fairfax County by hosting a fundraising breakfast. The company, founded in 1983 by Don deLaski and his son Kenneth, hosted one of the first Jeans Day events in Fairfax County. "We were excited to see Deltek host this challenge breakfast that welcomed businesses, nonprofits and other community leaders interested in helping to make jeans day a huge success this year," said Dean Klein, director of Fairfax County's Office to Prevent and End Homelessness (OPEH). "Even though we continue to have great support from longtime supporters, we also saw so much energy and enthusiasm from new partners."