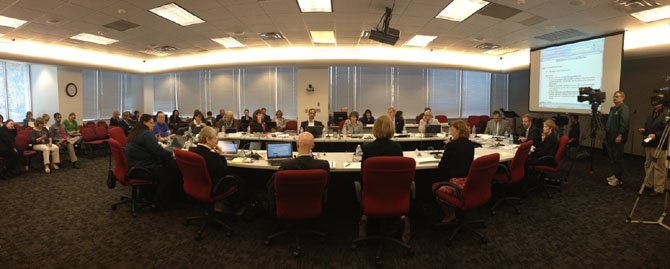 Members of the Fairfax County School Board meet for a budget work session this week in Merrifield.
Stories this photo appears in:
New superintendent says School Board needs to brace for $100 million worth of cuts.
Should class sizes be increased? Should school employees be laid off? Should students have to pay to take Advanced Placement and International Baccalauresate tests? These are some of the difficult choices before members of the Fairfax County School Board for fiscal year 2015. This week, Superintendent Karen Garza laid out about 50 potential spending items that could be on the chopping block. School officials need to close a $140 million shortfall. That means even if the Board of Supervisors and the General Assembly kick in more money, School Board members are going to need to make significant cuts. "I think it's still yet to be determined what that number is, although we know it's going to be extraordinarily high," Garza told School Board members during a work session Monday. "I think it's going to be at least $100 million." Garza, who joined the school system over the summer, was quick to point out that she was not making any recommendations. She described the list as "menu items" that School Board members could order to balance the books.