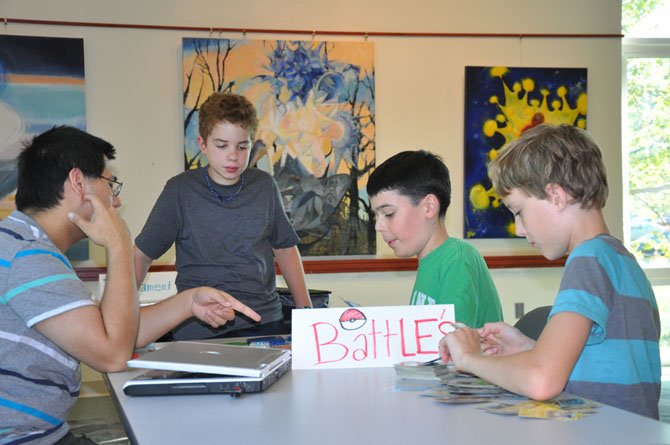 From left—Oakton resident and Madison High School graduate Timothy Foley volunteers as an adult leader and advisor; Forestville Elementary School student Michael Gatti initiated and organized the effort to bring to Great Falls the kind of Pokemon program that Foley had established in Vienna; Kilmer Middle School student Liam is earning community service hours for eighth grade and his national engineers' honor society; and Toren Tuthill, a Forest Edge Elementary School student from Great Falls.

Stories this photo appears in:

Great Falls Library brings threads together.
Concerns about the strength and condition of "the fabric of our society" abound, but how is that fabric woven in the first instance, and how is it used and enjoyed and rewoven into the modern tapestry of community? Spend just one day (or two) with the librarians, volunteers and patrons of the Fairfax County Public Library in Great Falls and you will see. The library opens its doors on Wednesday at 10 a.m.