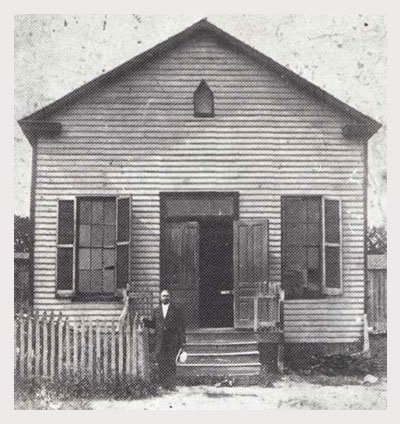 Shiloh Baptist Church's original building.
Stories this photo appears in:
McLean's Shiloh Baptist Church celebrates 140th anniversary.
Late in the 19th-century, three figures converged in Northern Virginia, leading to the creation of one of McLean's first African American churches. Cyrus Carter was a local pastor whose goal was to establish four black churches in Northern Virginia. The plan was to organize churches in Chesterbrook, Vienna, Arlington and in west McLean where Shiloh Baptist Church now stands. In 1873, Carter was able to broker a deal with local landowner, Charles Elgin, and Shiloh Baptist Church was born. "At the time, there were no black churches. Although this is where the majority of African Americans were living in those days, who were free," said Pastor Robert Cheeks. "They migrated to this area as D.C. was beginning to grow. This was a predominantly African American community," he said. Carter recognized the need for the community to have a place to worship. And after securing the necessary property, which still stands at the intersection of Lewinsville and Spring Hill Roads, Carter and the new congregation needed a place to worship while they raised money to start building a church. "It was difficult in that time, right after slavery, for people to save their money," said long-time member Archie Borgus. But they were able to raise the capital, and the cornerstone was laid in 1887.