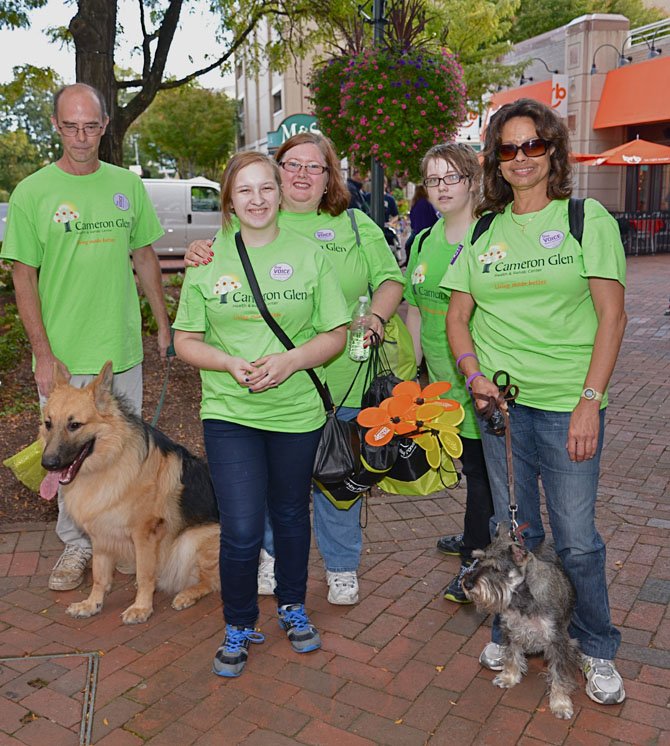 Representing Cameron Glen Health and Rehab Center of Reston where 26 residents currently live with Alzheimer's are, back row: John Carey with Max the shepherd, Kristen Carey, and Jessica Yeater. Emily Yeater and Jacque Thompson with Charlie are up front. Thompson has worked at Cameron Glen (formerly an Inova facility) for 26 years.
Stories this photo appears in:

Reston Town Center Walk draws 1,200-plus participants.
Reston Town Center looked like it was being wrapped in a rainbow as the 1,200-plus participants in the Walk to End Alzheimer's wound their way through the streets, dressed in a variety of colorful team t-shirts and carrying whirly-wind paper flowers with the names of afflicted loved ones written on the petals. Some 600 communities across the country have joined in the national effort to raise funds and awareness of this devastating disease, and the Alzheimer's Association's local National Capital Area Chapter President Susan Kudla Finn reported that more than 112 walks were held just this weekend alone, in addition to the Reston walk Sunday, Sept. 29.