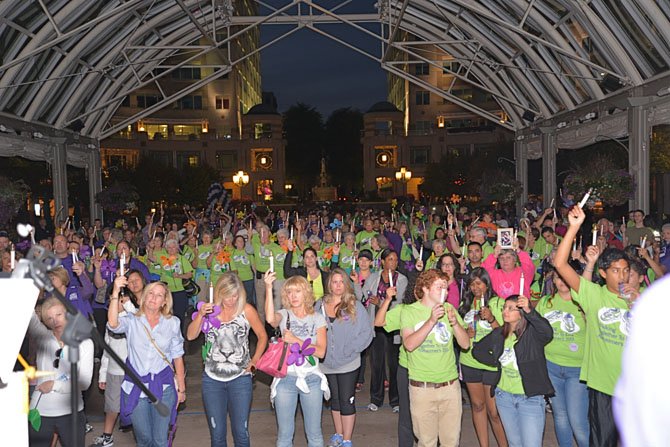 Hundreds Join Walk
"We're here to help and to make sure people suffering from this disease and people caring for its victims have a voice, and a place to get help and support."
-- Susan Kudla Finn, National Capital Area Chapter President
Reston Town Center looked like it was being wrapped in a rainbow as the 1,200-plus participants in the Walk to End Alzheimer's wound their way through the streets, dressed in a variety of colorful team t-shirts and carrying whirly-wind paper flowers with the names of afflicted loved ones written on the petals. Some 600 communities across the country have joined in the national effort to raise funds and awareness of this devastating disease, and the Alzheimer's Association's local National Capital Area Chapter President Susan Kudla Finn reported that more than 112 walks were held just this weekend alone, in addition to the Reston walk Sunday, Sept. 29.
"Our chapter covers 5,000 square miles and 5 million people," said Finn. "There's a lot of people in those numbers who have been touched by Alzheimer's. We're here to help and to make sure people suffering from this disease and people caring for its victims have a voice, and a place to get help and support," she said.
AFTER CHECKING IN, collecting their "flowers" and getting organized, the crowd got warmed up for their pedestrian efforts to the tunes being played by DJ Freddie B from Musical DJs. Then it was time for the official welcome and the inspirational preparations. Acting as emcee for the event was Jeff Goldberg, Virginia Bureau chief for ABC7/WJLA-TV. Goldberg announced the Reston Walk's sponsors and top team and individual fundraisers. Greenspring, the senior living community in Springfield, took top honor as Gold Sponsor. Ashby Ponds, SRA International, Tall Oaks Assisted Living, Civitan Club of Fairfax, Premium Distributors of Virginia, Vinson Hall Retirement Community, and Reston Hospital Centers supported the cause as Bronze Sponsors. The Connection Newspapers also joined in as a media partner with WJLA, WTOP Radio, and Northern Virginia Magazine.
SRA Cares, the community service program of SRA International, headquartered in Fairfax, received kudos for most funds raised by a team by the start of the walk, with over $7,400 collected. The Rapid Ronnie Team took second place, coming in at almost 250 percent above their goal of $2,250. Team Captain Kelly Brandquist explained that the "Rapid Ronnie's" were there in memory of Roland Brandquist, a former Navy Captain who earned a speedy reputation while playing football for the Navy in the late 1950's.
Before cutting the ribbon under the purple and white balloon arch with emcee Goldberg and sending the walkers on their way, President Finn also addressed the gathering, praising them as the "army of help and hope."
"Four hundred and forty-three thousand people in Virginia are caring for someone with Alzheimer's or dementia," said Finn. "Together, they are putting in 5,400,000 unpaid hours to care for beloved family and friends. If they were getting paid, it would total about $6.2 billion dollars to provide that care."
THE ONE-MILE WALK ROUTE was then flooded with those on foot—both two and four—with lots of strollers and a number of wheelchair users. Alzheimer's Association staff held traffic at intersections to insure safety, and welcomed the walkers back with cheers and lots of shout-outs to say "Thank You" and quite a few hugs. DJ Freddie B helped the crowd stretch out any kinks; after a stirring performance from high school student Nicole Frank singing "Wind Beneath My Wings" in memory of her grandfather, the event came to a close with a candlelight moment of silence.
The National Capital Area Chapter of the Alzheimer's Association has two more walks planned for this year. The next walk is scheduled for Oct. 19 in Manassas. The group will close out their walking season on Oct. 26 with a final walk on the National Mall in D.C. "But fund raisers have until Nov. 30 to get their donations in for this year," Finn was pleased to remind teams and individual donors. "Just check out our website. Links will take you to the walks in our area to complete the donation process." The Alzheimer's Association website, www.alz.org, also provides information, resources and support, as well as a 24/7 Helpline.