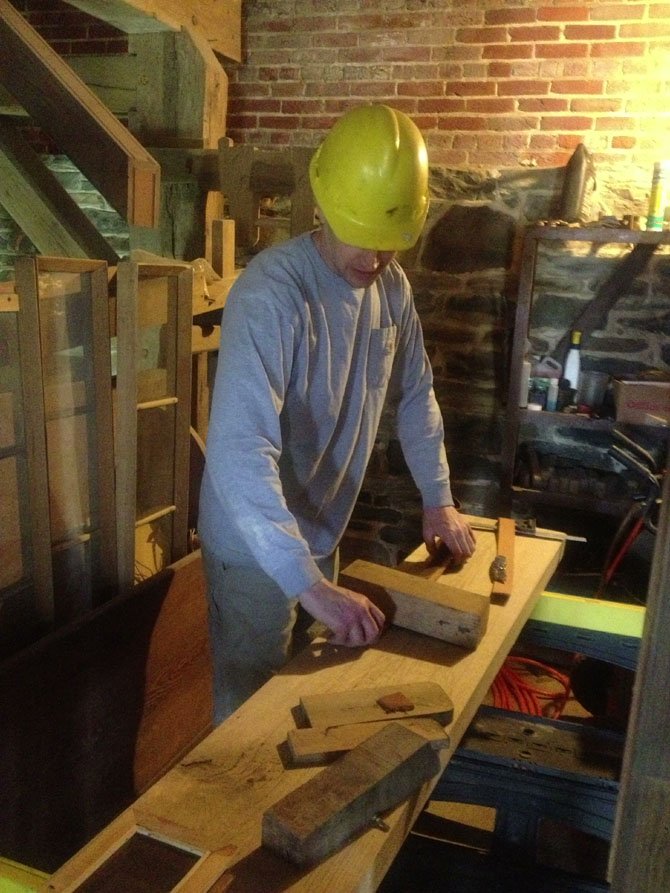 Ben Hassett, one of the few remaining millwrights in the nation, has been conducting repair work at Colvin Run Mill in Great Falls.
Stories this photo appears in:

Tours and interpretations of the Great Falls historic site continue.
Grinding with the main stones at Colvin Run Mill Historic Site has come to a stop for the next few months. Miller Mason Maddox found a crack in the main axle of the site's water wheel, which catches the water flowing through the millrace and powers the mill.
Staff look forward to restoration of mill.
Last year Colvin Run Mill in Great Falls entered a contest to win grant money through the Fairfax County Park Foundation. The result was a fourth-place finish among 24 historic sites in the contest and a $75,000 grant for Colvin Run Mill, the largest grant in the site's history. This money is now being used to fund restoration of the mill. Fairfax County spent about $1 million restoring the mill between 1968 and 1972, but stopped before finishing when funds ran out.