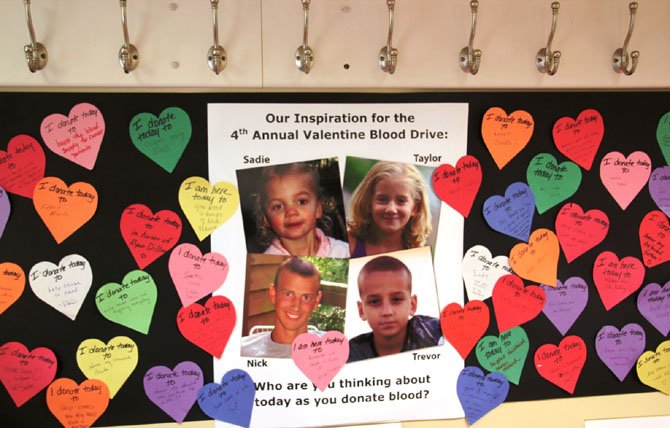 During last year's blood drive, donors and children were given paper hearts to write reasons why they were giving blood.
Stories this photo appears in:

Inspired by one child's struggle with cancer, Burke community prepares for fifth annual "family-friendly" blood drive to give other children hope.
Erin and Ethan Lauer of Burke vividly remember the history-making snowstorm that buried the region with more than three feet of hard, wet snow exactly four years ago this week. Dubbed "Snowmageddon" by local and national media, the blizzard shut down most businesses, schools, and the federal government for weeks. Snowmageddon, meteorologists said, rivaled the snowfall production of any other major snowstorm in recorded history. The ferocious storm came in two rounds. When the second wave hit, temperatures plummeted into the high teens and winds gusted over 40 mph. The Lauers held little hope that friends and neighbors would dig out of the ice and snow to attend a Valentine's Day blood-drive for their infant daughter, Sadie, who had been diagnosed with a life-threatening cancer called Neuroblastoma when she was just 3-months-old. The family was in for a surprise.