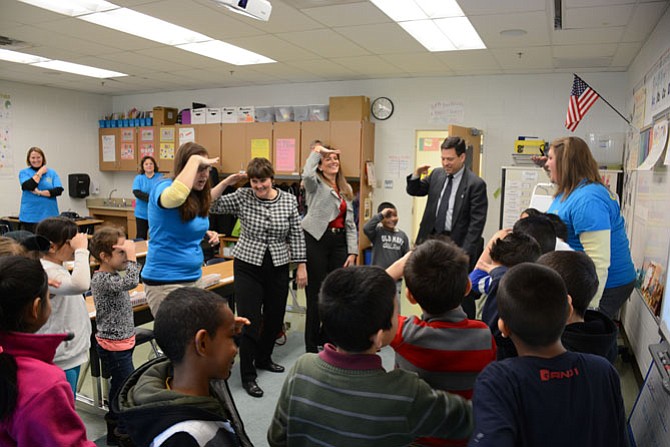 Hybla Valley Elementary School students in Megan Sidari's (right) second grade class teach Virginia Secretary of Education Anne Holton (rear left), FCPS School Board Chairman Tammy Derenak Kaufax (rear center) and 44th District Delegate Scott Surovell (rear right) their "Shark Attack" song.

Stories this photo appears in:

Del. Scott Surovell (D-44) used his blog and e-newsletter to make his intention known: Less than a week after Sen. Toddy Puller (D-36) announced she would not look to serve another term, Surovell declared he would run for the vacant seat on Sunday, Jan. 18.

"Pre-ci-pi-ta-tion at-mo-sphere, pre-ci-pi-ta-tion at-mo-sphere." Hybla Valley music teacher Carla Okouchi helped fourth grade students count out beats for a cross-discipline lesson on music and weather. The floor-seated students picked up white plastic recorders and tweeted a melody, with percussive accompaniment from maracas, wood blocks and tambourine.