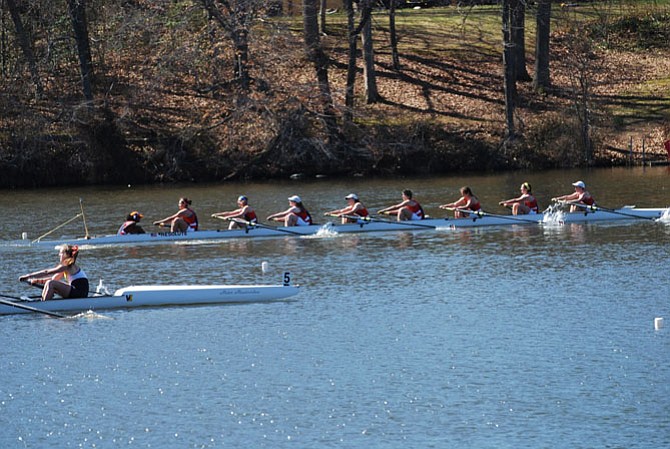 The T.C. Williams girls' first 8 sprints down the course, capturing first place and retaining the Ward Wallace Cup, a trophy for the annual race between T.C. Williams and St. Andrew's. Members include Brooke Teferra (coxswain), Maria Justiano, Claire Embrey, Katie Murphy, Reed Kenney, Amelia Bender, Maura Nakahata, Maeve Bradley and Kyra McClary.

Stories this photo appears in:

TC boats win every race, retain Ward Wallace Cup
The T.C. Williams girls' crew team put in a virtuoso performance, winning every race in which they participated, in the Noxontown No. 3 Regatta in Middletown, Del., on April 11. Winning boats included the girls' first 8, the girls' second 8, the girls' lightweight 8, the girls' freshman 8, the girls' third 8, and the girls' fifth 8. The TC boys spent their Saturday competing in a scrimmage against Westfield and Washington-Lee High School in Bull Run.