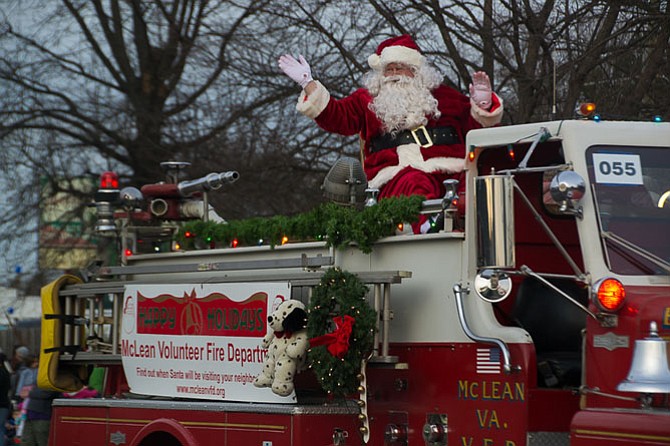 Santa was the last to make an appearance in McLean's seventh annual WinterFest parade on Sunday, Dec. 6. This year's parade will take place on Sunday Dec. 4th at 2:45 p.m. on on Old Chain Bridge Road, McLean.

Stories this photo appears in:

On Sunday, Dec. 4, McLean residents will welcome in the holidays as fun and fancy entries proceed down Old Chain Bridge Road for the eighth annual WinterFest parade. The stage will be set in the Langley Shopping Center, with Peggy Fox from WUSA Channel 9, again calling the parade.

Holiday parade on Sunday, December 4
Mark your calendars for McLean WinterFest parade Sunday, December 4th. To register to be in the parade, go to the WinterFest site at www.mcleanwinterfest.org. It's fun to relive last year's parade with the slideshow of entries while planning for WinterFest 2016, McLean's only community parade.

There were many drivers perplexed this Sunday afternoon when they realized Old Chain Bridge road was blocked off by police…that is, until they saw the sea of green and red that pooled into the heart of town for McLean's seventh annual WinterFest parade.